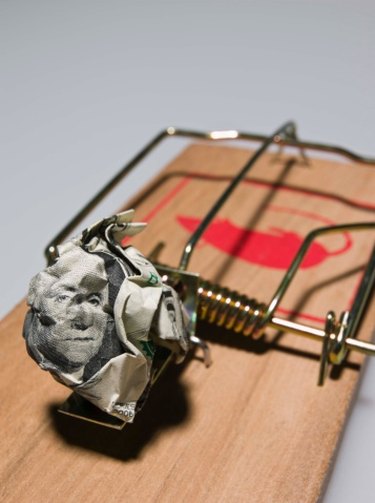 Obtaining a payday loan online is much more dangerous than obtaining a payday loan from a local brick-and-mortar institution. While securing a loan online may be convenient, it also opens opportunities for fraudulent sites to gather critical personal information and enables the lender to operate outside of state-enforced consumer protections laws. Individual payday loan websites are constantly emerging and evolving, making it impossible to identify a specific site as the "best" payday loan site. However, with some research, consumers can find the best payday loan site for their specific location and situation.
Companies
Doing business with an established, reputable payday loan company such as Check City, Check into Cash or Money Tree is preferable. These lenders offer in-store and online services. Obtaining a loan from a company that also offers store services ensures that you will be able to contact the company when needed. These lenders are also successful nationwide chains, which proves that they are legitimate and trustworthy.
Personal Information
You can't see who you are giving your information to, and that makes online payday loan websites very dangerous. The requirements to obtain an online payday vary by lender, but typically involve verifying bank information and employment, among other items. Do not pursue a loan with a lender who asks for irrelevant or unrelated information, such as your banking personal identification number (PIN) or any of your passwords to other sites.
Payday loan sites require visitors to fill out payday loan applications that often ask for sensitive information, such as the applicant's social security number and bank account information. It is never wise to give this information to someone you do not know and trust. Before providing any information to the lender, research the company thoroughly to be sure your information is safe.
It is important to read all documentation when signing a legally binding contract. The payday loan arrangements are legally binding. Be sure to read all of the fine print. Ignorance is not a legal defense, and if you sign an agreement you will be legally bound to it. Be sure to thoroughly understand what information is being gathered about you, who it will be shared with and how it will be used.
Business Information
You should always know who you are borrowing from, where they are located and how to contact them. If the site does not have a privacy policy, contact information for the lender, or a clear statement of who the lender is, do not fill out any paperwork or obtain a loan through that site. A study from the Consumer Federation of America (CFA) found that "online borrowers are often operating in the dark about the identity, location, or ultimate lender... Consumers click through several URLs in the process of using some sites, making it easy to lose track of the actual lender."
Pay special attention to the location of the lender. Try to obtain a loan from a lender that is licensed and located in your state. According to Jean Ann Fox of the Consumer Federation of America, ""Internet payday lending is the latest tactic to evade small state loan consumer protections. Lenders, when they can be located, are clustered in states with lax or non-existent consumer protections or claim to be doing business from outside the United States."
There are several ways that consumers can verify payday loan sites for legitimacy. Compare the contact information to the information in the WhoIs database (http://www.who.is/). Verify the age of the website and how long the domain name is registered for. If the domain name registration information is different than what is claimed on the site, be wary. If the site is only registered for a year or has only been up for a few weeks, be very cautious. Serious, stable lenders register their domains for years in advance because they plan on being in business for a long time.
Check for Reviews
Look for consumer reviews on the company before providing any information; be aware of negative consumer reviews. Customers who have done business with the lender may make specific complaints that can help you evaluate the quality of the business. If something goes wrong, will you be able to contact the lender? Evaluate the company's past dealings to determine who trustworthy the business is.