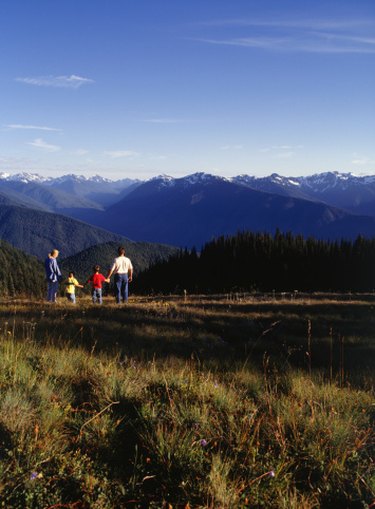 The program many people call "welfare" is officially named Temporary Assistance for Needy Families (TANF). Until 1996, it was Aid to Families With Dependent Children, of AFDC, but sweeping new reforms through the Personal Responsibility and Work Opportunity Act resulted in a new name and new regulations. Arkansas' TANF program, named Temporary Employment Assistance, or TEA, is administered by the Department of Workforce Services. During 2008-2009, 21 percent of Arkansas' total population lived under the federal poverty level. To qualify for Arkansas' TEA program, you must meet certain requirements.
Citizenship and Residency
All applicants for Temporary Employment Assistance must be residents of the state of Arkansas. They must also be citizens of the United States, permanent residents or legal aliens. Showing proof of identity, Social Security numbers, immigration status and address is part of the TEA application process.
Financial Need
A family must qualify as low-income before receiving Temporary Employment Assistance benefits. The Arkansas Department of Workforce Services defines this as being "not able to afford some of the services that could support them." Financial need for the TANF program is generally decided by how much the family lives under or over the current federal poverty levels and if they make enough to meet the living standards for the area in which they live.
Dependent Children
Individuals and families with no dependent children living at home do not qualify for TEA. Married or unmarried parents, step-parents, pregnant women or adult caretaker relatives responsible for children under the age of 18 may qualify. However, neither parents, relative caregivers nor children can already be receiving Supplemental Security Income.
Paperwork
A great deal of documentation is needed during the application process for Temporary Employment Assistance. Besides proof of address, identity and immigration status, applicants will also need to show birth certificates or school records as proof of maternity and/or paternity; documentation of income; receipts for housing expenses and proof of immunization for all preschool-aged children. The state may also ask for other documents, depending on a family's claims and situation.
Personal Responsibility Agreement
Arkansas requires TEA participants to sign a Personal Responsibility Agreement when they begin receiving benefits. The agreement promises that the children are and will remain in school, that the participant will cooperate with the state Office of Child Support Enforcement and that he will abide by Arkansas' TEA work requirements.
Work
TEA users must follow certain work regulations. Able-bodied adults are required to work as soon as possible or engage in work activities that will result in employment. These include job training, job searching and volunteer community service. Minor parents are required to engage in educational activities rather than work. Refusal to follow the TEA work regulations will result in loss of benefits.