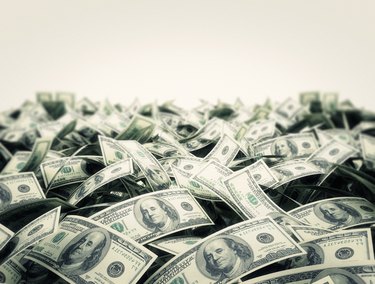 If you want to borrow $100,000 for any purpose, you'll need a lender that handles loans of this size. Such lenders include banks, credit unions and finance companies. Depending on the reasons for the loan, you also may be able to access funds through private investors, mortgage brokers and others.
What to Expect
When applying for a six-figure loan, the lender will want to make absolutely certain that you are going to be able to repay the balance. While each lender has its own rules regarding credit and proof of income, in general you can expect the following:
Credit Check
A prospective lender will check your credit history to see how you have handled previous obligations. The higher your score, the more likely you are to be able to get a loan. The lower your score, the higher your interest rate will be -- if the lender is willing to work with you at all.
Documentation
You'll need to provide proof of anything you say to the lender, such as your income, current employment and ownership of any collateral you use, such as your home. When you fill out an application you'll usually need to supply documentation of your Social Security number, addresses for at least the last two years, banking information, income tax records, pay stubs, and proof of any debt payments.
Types of Loans
Personal Loan
A personal loan generally is unsecured, which means that the lender is not requiring you to back the borrowed amount with collateral like your home or personal property. It may be hard to find a lender willing to lend a large sum of money without any type of security unless your income is large and steady enough to reduce the risk. If you do find one, the interest rate may be prohibitively high.
Home Mortgage
A mortgage loan uses your home as collateral. The amount of the mortgage is dependent on the value of the property, as well as your ability to repay the loan based on your documented income. Check with different lenders and mortgage brokers both in your area and online to shop for the best rates. The better your rate, the lower the ultimate cost of your loan.
In some situations you can apply a home renovation mortgage. This is available through either the Federal Housing Administration or Fannie Mae, and bases the value of the home on what it will be worth after renovation is complete rather the selling price. These funds only can be used for the purchase of a home and planned renovations.
Home Equity Line of Credit
The amount of a home equity line of credit, or HELOC, is based on a percentage of the value of your home less the outstanding mortgage. Lenders typically will consider your ability to repay and your credit history as well.
Small Business Loan
If you own or want to start a small business, you may be able to qualify for a small business loan. According to the U.S. Small Business Administration, lenders will look for certain qualifications before giving you a loan. First of all, you'll need to be able to prove that you need the loan for "sound business purposes," which means you are funding a real business, not just a vague idea or speculation. Expect to be asked to show a business plan. You'll also need to demonstrate good character and a high credit score to indicate the ability to repay the loan. For a business loan, this likely means that you will need to secure what you borrow with collateral.