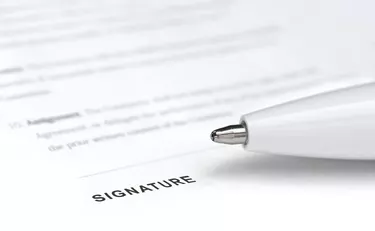 A representative at the financial aid office where you're seeking Title IV federal financial aid -- grant, loan or work-study assignment -- may find a code on your FAFSA Student Aid Report provided by the U.S. Department of Education that indicates that you're not eligible for aid. Ineligibility reasons include: you had a loan discharged for medical reasons, you've reached your loan limit, you received a grant overpayment you must repay or you've defaulted on a student loan. When your report falsely indicates a current default, you must acquire a letter from your lender or the Department of Education that states you're cleared to receive financial aid.
Step 1
Contact the lender for your current or previously paid loan. If you can't get the letter through your lender, contact the United States Department of Education at 800-433-3243 for assistance.
Step 2
Provide identifying information -- for example, name and lender account number or Social Security number -- so the representative can pull your up-to-date loan information including recent payment details and loan status.
Step 3
Ask the representative for a default clearance letter that shows that the loan is no longer in default and that you're eligible for Title IV federal financial aid. The representative may require that you provide proof of loan payment. For example, the representative may ask you to fax or mail copies of bank statements showing the loan payment withdrawals.
Step 4
Follow any instructions given to you by the representative to complete the request process and then wait for the letter to arrive.