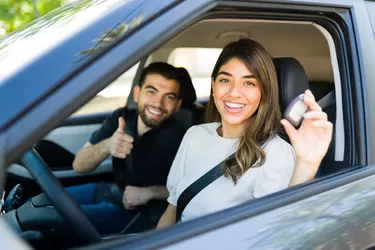 You don't need a driver's license or a learner's permit (if you're still learning to drive) to finance a car, according to credit reporting bureau Experian. Those are only necessary if you want to legally drive a vehicle (which would include a test drive). Let's say you want to co-sign a vehicle for a friend or family member and you don't drive. There's no problem doing that, as long as you meet all of the other car-buying process requirements to co-sign for an auto loan.
The same is true if you want to be the only signer on a car loan or lease. Reviewing what it takes to finance a used car or new car will help you get your paperwork in order before you head to car dealerships or a bank to apply for a loan.
In order to finance a vehicle, you'll need to prove you are who you say you are. If you don't have a valid driver's license, you'll need some other form of qualifying ID, which might include a photo ID. That could include a passport or other government-issued ID like a Social Security card. If you're not sure you have the right ID, contact your potential lender(s) to ask what type of ID you'll need.
Lending Tree's website offers eight pieces of information you'll likely have to provide a bank, credit union or other vehicle financing company. For example, you will also have to prove that you have verifiable income so the lender knows you can make your payments. If you're an employee, you can provide a Form W-2 from your latest employment year. If you're a contractor, you might be able to use a Form 1099. Self-employed borrowers, like freelancers, gig workers or small-business owners, might have to show previous tax returns or signed contracts to qualify for a loan. How you verify your income might impact how much your down payment will be.
Pulling Your Credit Reports
Any commercial lender will want to pull one or more of your credit reports, issued by Equifax, Experian and TransUnion. They'll also look at your credit score. You'll need to give them permission to do this, and that includes providing some ID. This will usually include your full name, current street address and Social Security number.
Before you take this step, make sure you have no errors on any of your three credit reports and that you have good credit. You can go to AnnualCreditReport.com once each year and get a free copy of each of your reports. You can also go to the websites of Equifax, Experian and TransUnion and request a free copy each year.
Read your reports and, if you find any errors, read the directions at the agency's website to learn how to challenge or correct the information on your report. This can take up to 30 days, so pull your credit reports as early as you can to avoid being denied a loan due to bad credit.
What About Auto Insurance?
Just as you don't need a driver's license or learner's permit to finance a car, you don't need one to get a car insurance policy, explains Progressive Insurance. However, whoever drives the car you are financing will need vehicle insurance that meets your state's minimum requirements (and be a licensed driver).
It's important that the car you finance has insurance coverage, or you could be sued for damage to another person, vehicle or property. That means someone will have to qualify for and purchase vehicle insurance and be able to prove to the lender with proof of insurance that the car is insured. Car insurance companies will need a valid ID, as well as other identification, similar to what you provide for a loan. They will not insure unlicensed drivers and might require photo identification.