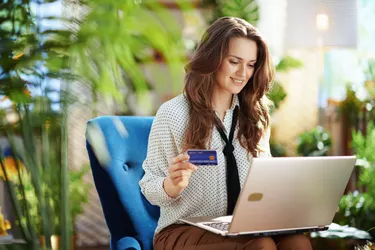 Longtime customers of Macy's know that if it's a holiday, the iconic department store is hosting a sale. Still, it can be limiting to set your shopping schedule strictly around the holidays, for Macy's hosts nearly a dozen of other sales throughout the year, too. All of this may come as good news if you've recently become a Macy's credit cardholder. But the good news keeps percolating as sure as all those coffeemakers in the Macy's housewares department. The store makes it easy to initiate the Macy's make a payment option for all the deals you've snagged from these sales, offering four convenient Macy's bill pay options.
Founded in 1858, Macy's can be counted on to conduct the typical selection of store sales, or those celebrating holidays such as Memorial Day, the Fourth of July, Labor Day, Thanksgiving and the end-of-year holidays, Coupon Cabin says. The store also appeals to regular customers with its "deal of the day," semi-annual, "friends and family" and "last-act" clearance sales.
Retail is an inherently first-come, first-serve industry, so perhaps Macy's tries to skew the odds in customers' favor with its "one-day" sales, which are actually stretched over two days. (The main sale is held on the third Saturday of the month, with a preview sale the day before.)
Macy's rewards frequent shoppers with its "star rewards" program. It allows cardholders to follow an Olympic-like hierarchy, becoming either a silver, gold and platinum member based on how much they charge to their Macy's card while also accruing perks. The perks include such things as bonus point rewards, day-long savings passes and free shipping.
Consider Macy's Bill Pay Methods
Since Macy's is almost always hosting a sale, you'll have plenty of opportunities to save – and spend. And this means you may often have a payment to make toward your Macy's account, too. Macy's payments can be made in four ways:
By mail
By phone
Online
In a store
To make a regular Macy's payment, send a check or money order to:
Macy's Credit Card Payments
P.O. Box 9001094
Louisville, KY 40290-1094
To make a Macy's American Express account payment, the address is:
Macy's American Express Account Payments
P.O. Box 9001108
Louisville, KY 40290-1108
Express payments should be mailed to:
Macy's Express Payments
Attention: Consumer Payment Dept.
6716 Grade Lane, Bldg. 9, Suite 910
Louisville, KY 40213
Be sure to include your account number so Macy's knows which account to credit. The memo line is a good place to put this information.
To make a Macy's payment by phone, you can call the customer service department at 888-257-6757 between 10 a.m. and 10 p.m., Eastern time, seven days a week. If you live outside the United States, call 727-556-5758.
Go Online to Make a Macy's Payment
Assuming that you've already created an online Macy's account, sign in to "my account" online. (If you haven't, it takes only a few moments to do so after clicking on "create an account.") Then:
Click "Macy's credit card."
Click "make a payment."
Select the payment amount, payment source and the payment date.
Click "continue."
Verify that the information is correct on the next screen. Then click "authorize."
Clicking on a button gives the illusion of instantaneous action. But it can take up to three days for a payment to register on your account. So if you're in the habit of checking on your accounts, keep the delay factor in mind.
If you're on your way to a Macy's store anyway, it may be most convenient for you to make a Macy's payment while you're there. For the time being, only debit cards are accepted as payment, though it's possible Macy's may return to accepting cash, checks or money orders. Still, the biggest challenge for you may be trying to make your way to the door while dodging one of Macy's truly "door-busting" sales.