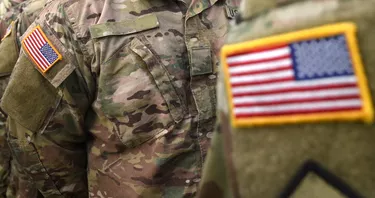 Former U.S. military service members receive a variety of benefits through the U.S. Department of Veterans Affairs. After the VA determines your eligibility for specific benefits, you receive a VA award letter with details of when and how you will receive these benefits. When you need a copy of your award letter, you have several options for retrieving it.
Use eBenefits for Electronic Records Requests
The VA still sends its award letters by mail, but also makes them available online, through its eBenefits portal. Users with Basic eBenefits accounts can't view or download VA award letters. To access award letters and certain forms, you'll need to be a registered eBenefits Premium user.
The eBenefits online registration process also requires that you already have a record in the Defense Enrollment Eligibility Reporting System and a DS Logon. Use the DS Logon Account Registration Wizard at eBenefits to set up your Premium account. During the registration process, you will need to verify your identity by answering security and personal questions. After you have created your Premium eBenefits account, you can log into your account to access and retrieve your VA award letter and other files.
Find Your VA Regional Office
The VA has regional and state offices throughout the country. The staff in these locations help veterans with benefits claims and the awards process. Find your VA office by searching the links for your state on the VA's Regional Offices websites list.
The VA regional office list also has the address, phone number and operating hours for the office you need to visit. You'll also be able to find out if you need to make an appointment for faster service or just walk in at your convenience. Along with identification and your social security number, bring any previous claim forms and supporting records when you visit a VA regional or local office.
The staff at a VA regional office can also help you create a Defense Enrollment Eligibility Reporting System account if needed. They can verify your identity during your visit too. This will make it easier for you to register for an eBenefits Premium account for future access to your VA award letter.
Get Help From a VA-Accredited Representative
Veteran's services organizations often have accredited representatives who know how to get a copy of VA award letters. VSOs are usually nonprofit entities, but not all of them have staff who have certification from the VA. Some accredited representatives work for state, county or local veterans' organizations as well. Services might be free or low-cost in most instances.
Identify a local veteran's services organization that has an accredited representative by using the VA-certified list of accredited representatives for your area on the VA website. In addition to providing advice and assistance, accredited representatives can communicate directly with the VA about your award letter. Their breadth of experience with VA procedures often lets them promote your interests to VA staff more effectively than you can alone.
Mail Your VA Award Letter Request
Send a request for your award letter by mail. First, make copies of your claim forms and any previous correspondence between you and the VA. Do not mail your originals. Contact your VA regional office to find out if you should send your request to the regional or local office.
Generally, this option takes more time than your other options. It's also more difficult to track the progress on your request. Sending your request by certified or priority mail can help somewhat with tracking it. When you communicate with the VA by mail, be sure to follow up by any deadline you see in their responses.