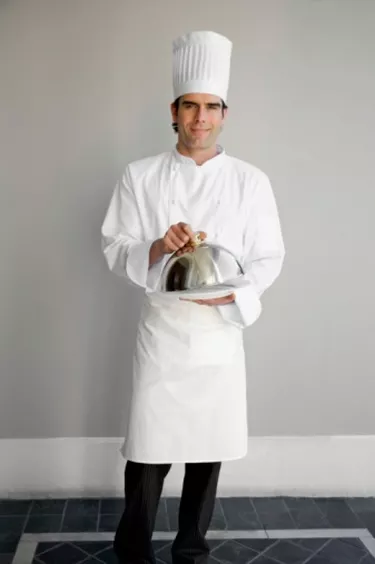 Chefs use food ingredients to create culinary works of art for their customers, and head chefs often have the final responsibility for everything that goes on in their kitchens. Becoming a head chef requires a set of personal and physical qualities not necessarily required for line cooks, prep cooks or other kitchen staff. Understanding the personal and physical qualities needed to become a chef can help you decide whether this exciting career path is right for you.
Leadership Qualities
While a chef is likely to be the most skilled and experienced cook in his kitchen, the main role of a chef is that of a leader. Chefs are responsible for delegating various food preparation, cooking and cleaning tasks to among kitchen staff, as well as training and developing team members to be more confident in a wider range of cooking techniques, food safety regulations and other vital issues.
Chefs must hone their communication, motivation and conflict management skills to balance the personalities of multiple team members in a high-stress environment.
Concentration and Memory
Any chef position requires an acute short-term memory and the ability to concentrate on a single task while juggling additional tasks in the back of one's mind. A head chef has to mentally overcome more challenging issues than a line cook, however. Not only is a head chef required to focus on what he is doing while thinking about the ten other things he has to do in the next few minutes, he also has to keep up with exactly what each other cook is doing and what they will be doing in the next few minutes. Head chefs must also keep an eye on the dish-washing station and the service staff to ensure that the kitchen has the tools it needs to operate effectively.
Physical Requirements
Cooking can be a physically demanding job, even though it is not generally classified in the same category as jobs like construction or auto repair. Chefs must have the ability to work on their feet for eight hours at a stretch, sometimes standing for prolonged periods and other times speed-walking between various parts of the restaurant. Chefs must also be able to lift heavy boxes, cans and other bulk food items on a regular basis.
Head chefs can put in as many as 12 hours per day or more, and are often responsible for more physically demanding jobs than other kitchen staff. Head chefs in smaller restaurants may be responsible for physically shopping at a local farmers' market every other day for ingredients, for example, before loading and delivering the supplies themselves.
Stress Management
Stress management presents both personal and physical challenges in the workplace, and high-volume kitchens can be extremely stressful work environments. Head chefs must be able to remain calm and clearheaded under stressful situations, and must be able to communicate calmly under pressure with aggravated service staff, customers, managers and kitchen staff. As leaders, chefs must also be able to overcome their own irritation to mediate stress-induced conflicts among their subordinates in the kitchen, or between members of their team and other employees in the restaurant.