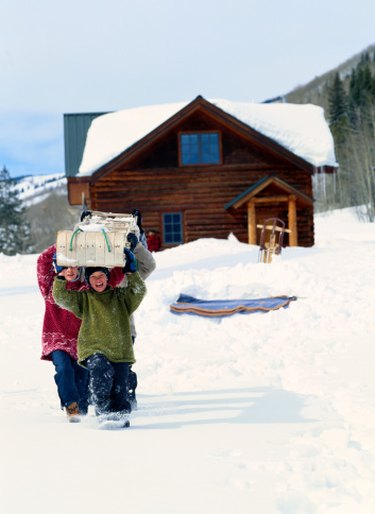 Selling your home by owner in Colorado is easier when you understand the process. An attorney isn't required in Colorado to draft a contract or handle the closing. A local title company can be a good resource for information on your local market. Explain to the company that you're selling your property yourself and you plan to use its closing services. You can find signs, flyer boxes and lock boxes at your local hardware store, or go to a specialty sign store for a larger selection or a custom sign.
Preparing Your Home for Sale
Step 1
Prepare your home for sale by cleaning up, removing clutter from rooms, repairing nicks in the wall and torn window screens, adding a fresh coat of paint where needed and steaming the carpet. Colorado's unpredictable weather means that potential buyers may track in snow or dirt, so lay a plastic runner at the entrance to show you care about your home. Make sure your home has curb appeal, and spruce up the entryway. First impressions mean a lot.
Step 2
Conduct a market analysis of your home by gathering information on at least three houses comparable to your home. Good comparables should be in your neighborhood; be of a similar age and style; and have similar square footage, number of bedrooms and bathrooms, garage spaces and other features. Note terms such as "seller concessions" included in other sales. These recent sales set the market for your home. Follow the same process using homes currently for sale to understand the competition, then set your selling price.
Step 3
Expand your market by listing your home in the local Multiple Listing Service, or MLS. For a flat fee of $100 to $500, certain brokers may list your home. Ask for $1,000 earnest money for every $100,000. Put a "For Sale" sign in the front yard, create an information flyer and keep the box on your sign loaded. Distribute your flyer to neighbors to keep them from looting your box; plus, they may know someone who is interested.
Step 4
Go to the Colorado Division of Real Estate website to download needed "Real Estate Commission" approved contracts and forms. Download and complete a property disclosure form. Owners must disclose known defects, such as foundation problems, a leaky roof or past issues with the home. Providing a complete property disclosure to potential buyers reduces your liability and is in your best interest. Also disclose any known issues or upcoming changes in the neighborhood that may affect the property's value.
Step 5
Demonstrate that you understand the sales process by voluntarily disclosing information in a professional manner. If the house was built prior to 1978, all sellers must provide a lead-based paint disclosure and provide a pamphlet, which you can download from the EPA online for free. When a contract is accepted, be prepared to provide homeowner's association information, if applicable, including current covenants, conditions and restrictions, or CC&R's. Disclose to the buyer any current or pending special assessments or litigation.
Step 6
Motivate buyer's agents to show your home by offering them a "broker co-op" commission of 2.5 percent to 4 percent. If you list on the MLS, include this commission information. Make showing your property easy for brokers by placing a key in a lock box on the front door. When they call to set an appointment, get their office contact information, then call back with showing instructions. After accepting an offer, deliver a contract copy and earnest money to the title company.
Tip
Keep a home information notebook on the kitchen counter next to a stack of information flyers. Include information about schools, transportation, nearby shopping and entertainment.
Keep your home smelling fresh while you're offering it for sale. Use air fresheners, if necessary, and avoid creating heavy cooking smells.
Offer a one-year home warranty to buyers for a full price offer. It may cost you $300 to $500, but it serves as an incentive and reduces your liability.
Hold a weekend "Open House" and advertise it on a local classifieds website. Use directional arrows, balloons and flags to attract attention.
Invite a local mortgage broker to create a loan information sheet specific to your home and place it on the kitchen counter next to your home information flyers.
If you're going to reduce the selling price significantly to attract buyers, you might as well list it with a broker.
Warning
"For sale by owner" sellers are often reluctant to offer any commission, but excluding buyer brokers from your market may slow down your showing activity significantly.
Unless it's a strong seller's market, it's usually a waste of time to put your home on the market at an inflated price just to test the waters.
Things You'll Need
A "For Sale" sign

A flyer tube or box for the sign

Lead-based paint pamphlet if your home is old than 1978

Colorado-approved real estate contracts and forms

Key lockbox