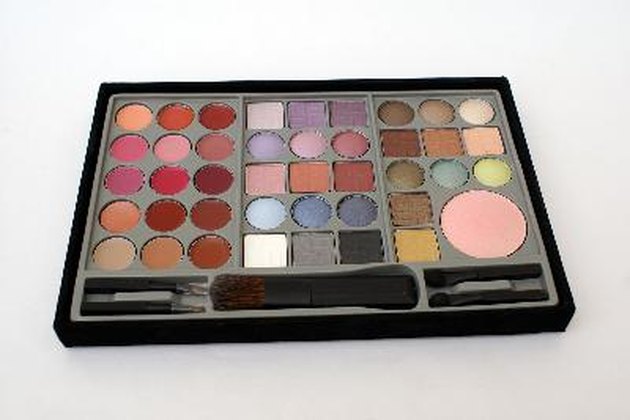 Makeup artists ensure that models, actors and other performers, and presenters have suitable, effective makeup before they appear in front of cameras or an audience. This may be fairly simple -- such as for a TV presenter -- to more complex to help create a character in a theater. A makeup artist consults with the creative team to determine the makeup requirements of the project, factoring in budgetary constraints, and may provide sketches or outlines of the proposed techniques. She will apply makeup, fit hairpieces and ensure continuity of image during a project. Her salary will be affected by factors such as location.
Average Salary
In 2009, the U.S. Bureau of Labor Statistics conducted a nationwide survey of employment and wages. It collected salary data from almost 2,000 individuals working as makeup artists in the United States and calculated that their average yearly pay was $45,010. This is equivalent to a monthly income of $3,751 and an hourly pay rate of $21.64. The BLS also reported that while those in the top 10 percent of earners received an average of $94,500, those in the bottom 10 percent earned just $16,450. Industry website Makeup-Artist-World.com reports that a makeup artist may earn between $500 to $2,000 for an advertising or fashion photography shoot or around $5,000 for the run of a theater production.
Salary by Industry
There are two primary industry sectors for makeup artists: the motion picture and video industry -- including music videos, television and advertisements -- and performing arts companies. The BLS' 2009 survey listed the average salary within the former sector as $85,930 while the figure for the latter was given as $56,570.
Salary by Location
The job location will also impact a makeup artist's salary level. California and New York -- where the majority of motion picture and television companies are based -- topped the BLS survey with average salaries of $72,290 and $62,570 respectively. Their nearest competitor was Connecticut, with average pay of $43,960. Maryland was among the least-lucrative states -- $24,010. The Los Angeles, Long Beach, Glendale district of California was the metropolitan area with the highest salaries for make up artists -- $83,260 -- followed by the New York, White Plains, Wayne area of New York state -- $67,160. In its 2011 survey of commercial makeup artists, SalaryExpert.com listed the average salary for a makeup artist working in New York/Manhattan as $100,298.
Outlook
The BLS expects employment opportunities for makeup artists to increase by around 17 percent from 2008 to 2018. This is a considerably faster growth rate than the BLS expects to see for the country as a whole, estimated at between 7 and 13 percent for the same period. Increased demand for entertainment, particularly in the mediums of film and television, will fuel this growth and should keep salary levels for the profession competitive. However, the BLS does counsel that competition for vacancies within the trade is very keen and the more experienced practitioners are best placed to secure the highest wage levels.