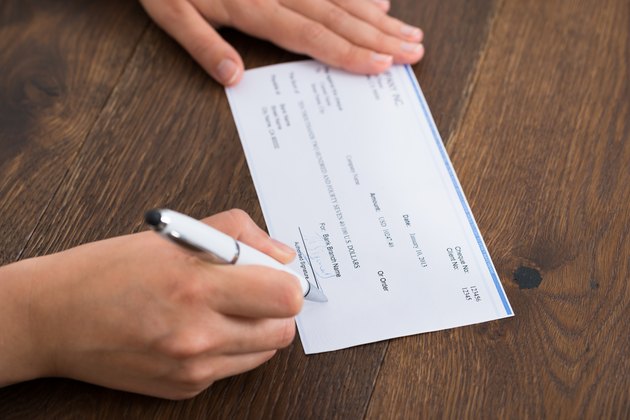 A joint bank account is generally held by married couples to pay common expenses. Most often, you can deposit a check made out to your husband into your joint account.
Joint Account
Each person associated with a joint account is usually able to deposit or withdraw funds, as he likes. Most banks will even allow each owner of the account to endorse checks made out to the other owners of the same account. Therefore, you should be able to deposit your husband's check into a bank account that is jointly owned by the two of you.
Warning
Rules regarding deposits in joint accounts can vary by bank; check with your financial institution for any specific details or restrictions.
Your Own Account
Depositing the check into your own bank account would require permission and a restrictive endorsement from your husband. He must sign the check over to you by writing, "Pay to the order of," followed by your name. You must both then endorse, or sign, the back of the check.
Warning
Adding your husband as a secondary user to your account is also a way to be able to deposit a check made out to him. However, the FDIC warns that anyone who has permission to access the account has the legal right to withdraw all of the funds.