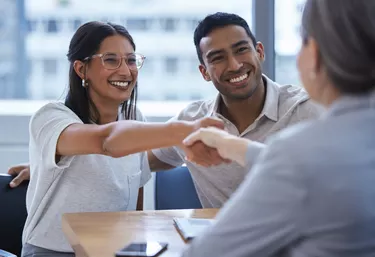 Can I Cash a Check Made Out to Me and Another Person?
To cash a check made out to yourself and another payee, you both must sign the back of the check. If you have a joint account and both parties sign, you should have no trouble. However, if the endorsement includes "for deposit only," then you won't be able to cash it. Whenever a check is made out to you "or" another person, then you are able to cash the check on your own, with just your signature. However, the other payee should be consulted and aware of the transaction.
How to Deposit a Check With Multiple Payees
If you are able to get the signatures of all payees named on the front of the check, depositing the check is simple.
Have each payee endorse the back of the check.
Write "for deposit only" on the back of the check, along with your account number.
If depositing in-person, fill out a deposit slip.
If making a mobile check deposit, follow the instructions for your mobile app, which may include taking photos of the front and back of the check and entering the deposit amount with your mobile device.
If making an ATM deposit, follow the steps to confirm the dollar amount of the check and checking or savings account it is being deposited into. Feed the check into the ATM and collect your receipt.
In many cases, the deposit amount won't be available until at least the next business day, so you may have to time the next steps accordingly. If you don't share a joint account with the other payee or payees, depositing it into one bank account and then dividing it up among the other people can be a hassle.
In the case of a joint check issued by a U.S. government agency, such as a tax refund check or stimulus payment made out in a person's name in addition to your own, the IRS recommends having the check deposit made directly into one or more checking accounts. If you split the check deposit, it's like receiving two separate checks – and you don't have to go to the bank.
Bank's Rules Regarding Checks With Multiple Payees
According to the Consumer Financial Protection Bureau (CFPB), most banks require that a check be signed by all parties before a check can be cashed or deposited. If you go to a bank or credit union where none of the payees have a bank account, the financial institution may refuse to cash it or may charge a fee for the transaction.
Frequently Asked Questions
Some FAQs about writing checks to two people include:
What if a Check Is Made Out to Both a Wife and Husband?
When a check is made out to two married people who share a joint account, either spouse may deposit or cash the check, as long as the signatures of both account holders are on it. This can be done by in person or through online banking via a mobile deposit.
What if the Payees Don't Have a Joint Account?
Without a joint account, when a check is made out to two married people, most banks will allow one of the spouses to deposit the check with both signatures. Unless the check has an "or" between the two names, both signatures must be present on the check.
What if Only One of the Payees Is Able to Sign?
When a check is made out to two people and only one is able to sign, a bank's policy and procedures may vary, depending on the situation. Always check with your financial institution to find out your options.
If, for instance, one of the payees is deceased and shared a joint account with someone else, the other payee may have "right of survivorship," according to the CFPB, which may pass full ownership to the surviving account holder. This situation should always be addressed with the bank and legal counsel.
If, for example, a rent deposit check is made out to two roommates and one lives out of state, if you can't get that signature, it may be best to ask the payer to distribute separate checks.
What Happens if Only One Person Endorses and Deposits a Check Written Out to Two People?
If you deposit a check with two payees and only one endorsing signature, the bank may return the check to you due to the missing signature. If you try to make an ATM deposit or mobile deposit, the transaction might be approved initially, but is likely to get rejected the next business day.
The need for the endorsement of all payees generally applies to all types of checks and other financial instruments, including government checks, money orders and cashier's checks.