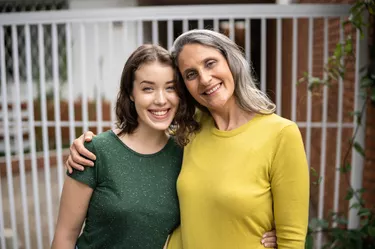 In theory, a check can only be cashed or deposited by the individual or entity whose name appears on its "pay to the order" line, but that payee can give the right to a third party. They're "signing over" the check to someone else. It's perfectly legal to cash checks that have been endorsed by a family member or someone else, provided you follow the rules for doing so.
How to Endorse a Check Over to Someone Else
The process of endorsing a check begins the same way whether your family member is cashing the check or they're transferring that right to you: They must sign their name in the endorsement area on the back of the check.
Their signature should appear at the top of the back of the check. Then they must write "pay to the order of" below this endorsement, along with your name, according to Huntington National Bank. "Pay to the order of" is the same language that's printed on the front of the check, initially giving the right to cash it to them.
Now you can sign and endorse the check below that.
But don't rush off to the bank, credit union or check-cashing service just yet. Call in advance to find out what additional requirements, if any, the institution or service might have for this type of transaction, known as a "third-party" check. You may both have to be present, and you might both be required to show ID. Make sure that your family member writes your name exactly as it appears on your driver's license or other identification.
The "For Deposit Only" Method
You might want to take an easier way out and simply deposit the check rather than cash it if you have a savings account or checking account. The end result is the same: you get cash for the amount of the check. You just have to withdraw the money from your bank account after the check clears.
Greater Texas Credit Union suggests giving your family member a deposit slip for your account. They can then endorse the check and write "for deposit only" and your account number rather than "pay to the order of" your name and simply deposit the check into your account for you. And a deposit slip isn't absolutely necessary. They can typically just write in your account number.
Alternatives to Endorsed Checks
Another way to avoid the hassle of trying to cash a third-party check is to have your relative simply deposit the check into their own account, then make a payment directly to you. This can spare them a drive to your bank if they're set up with a mobile app for their own bank. They don't even have to leave home to make a mobile check deposit. It's just a matter of endorsing the check "for deposit only" into their own account, taking a picture of the front and back of the check, uploading it and clicking on "deposit," according to NorthOne. Now they can just withdraw the money and give you the cash.
Do All Banks Allow Endorsed Checks?
Financial institutions won't cash a business or personal check and they won't accept it for deposit either if it's ‌not‌ endorsed by the proper party or parties. All checks ‌must‌ be endorsed.
As for third-party checks, SoFi emphasizes that it's important to call ahead to make sure that your bank will deposit or cash such a check and if there's anything you should know about its policies before you show up with your third-party check in hand.
What Precautions Should You Take When Depositing a Check for Someone Else?
It's not unheard of for individuals and even businesses to pass bad checks that are drawn on insufficient funds, so your family member will want to ensure that the check is good and payable before signing it over to you or depositing it for you.
Checking the validity of a check can be a simple matter of calling the issuing bank that it's drawn on to make sure that the account in question holds enough money to cover the check. And you might want to wait to add the endorsements until you're ready to cash the check. Anyone who has possession of it can usually cash it after you and the payee have signed it if you should lose or misplace it before you get it to the financial institution.