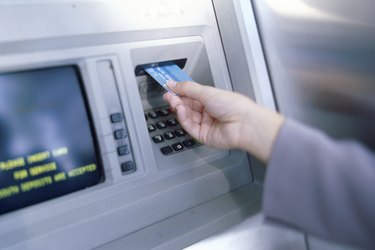 Even the most financially savvy and organized account holder can accidentally overdraw a bank account, resulting in high fees. As a benefit to customers, Bank of America offers some leeway for overdrawn checking and savings accounts by setting limits on overdraft fees.
Overdraft Item Fees
When a customer makes a withdrawal, writes a check or makes a debit card purchase without enough funds to cover it, Bank of America charges $35 per overdraft item, with a maximum of four overdraft item fees in one day. Bank of America does not charge an overdraft fee for everyday, non-recurring debit transactions, like gas or retail purchases, or for ATM transactions.
Avoiding Fees
The Bank of America Overdraft Protection Services program links a customer's checking and savings accounts to another Bank of America account. Money is pulled from this additional account to cover any overdrafts and the customer is only charged a $10 transfer fee. Bank of America also offers the SafeBalance Banking Account, which charges a $4.95 monthly fee but does not charge any overdraft fees when the customer overdraws her account.
Disputing Charges
If an overdraft charge shows up on a customer's account that she does not agree with, she can dispute that charge by contacting Bank of America's checking and savings customer service team. Mailing address, phone numbers, email address and an online chat feature all are available on the Bank of America website. When speaking with a customer service rep, stay calm and present the reasons why the overdraft should be removed.