Forest fires can occur at any time and have the potential to devastate a community or an entire region. For instance, wildfires destroyed 2,180 homes in Southern California in October 2007. Your homeowner's insurance policy covers the destruction of your home from a wildfire. However, the amount of coverage you have depends on the type of policy you purchase and any extra coverage you select.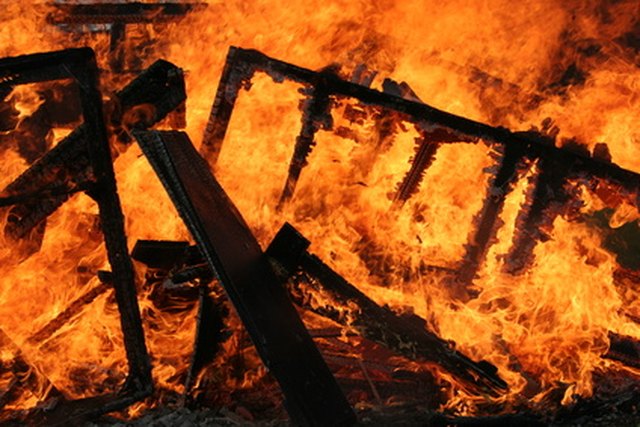 Dwelling Coverage
The dwelling coverage of a homeowner's insurance policy provides compensation to help homeowners rebuild or replace a destroyed home. However, the dwelling coverage of many homeowner insurance policies is limited. If the cost to rebuild your home exceeds the dwelling limit, you may have to either build a smaller home or pay the additional costs yourself. Furthermore, the dwelling coverage only covers what it would cost you to build a home with the exact specifications and features of the destroyed home.
Building Code Upgrade Coverage
Due to changes in local building ordinances, your community's building department may not allow you to build your home exactly as it was before the fire. For instance, some wildfire-prone communities require that all newly built home have roofs made of fire-retardant materials. Others require the installation of interior fire sprinklers. The dwelling coverage of your policy only covers up to the cost of rebuilding your home exactly as it was before the fire. To protect yourself against the cost of code upgrades, purchase a policy that contains this provision.
Extended Replacement Cost Coverage
If the dwelling coverage limit of your policy is not enough to rebuild your home, you may be able to receive additional money if your policy has extended replacement cost coverage. The limit of this coverage is usually 25 percent of the dwelling coverage limit. For instance, if you have a dwelling policy limit of $200,000, the extended replacement cost coverage limit would be $50,000. If the cost to rebuild your home turns out to be $225,000, you would receive the $200,000 dwelling limit and $25,000 in extended replacement cost benefits. If it costs $300,000 to rebuild your home, you would receive only $250,000.
Other Structures
The other structures coverage of your homeowner's policy provides protection for detached garages, guest houses and other structures not permanently attached to your home. This is a standard coverage for most homeowner insurance policies and the coverage limit is typically set at 10 percent of the dwelling coverage limit.