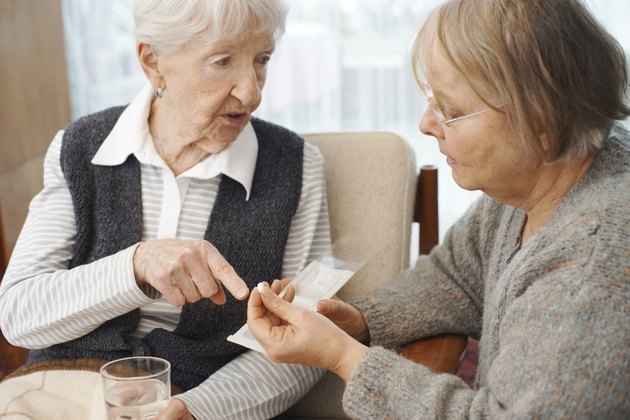 Medicare covers many home health services, such as physical therapy and intermittent nursing care, through its Part A hospital coverage and Part B medical coverage. Not all services qualify, and patients must meet eligibility requirements, including certification from a doctor that home treatment is necessary. After deductibles, Medicare pays 100 percent of all qualifying home health costs except for durable medical equipment, which requires a 20 percent coinsurance payment.
Original Medicare and Medicare Advantage
Some people choose Medicare Advantage plans through private insurance companies instead of original Medicare. The companies providing Advantage plans work under a contract with Medicare, and must offer at least as much home health coverage as original Medicare Parts A and B. The details of coverage for home health care may vary in Advantage plans, depending on the insurance company.
Four Conditions for Coverage
For Medicare to cover your home health care costs, you must be receiving ongoing care under the oversight of a physician. A physician must certify that you need professional services, such as physical therapy, intermittent skilled nursing, speech-language training or occupational therapy. You also must receive your care through a Medicare-approved home health agency to receive coverage.
In addition, a physician must certify you as homebound You qualify as homebound if going out would be bad for your health; if you're unable to leave the house without help, such as a walker; or if the effort would be too much for you. You're still permitted to leave the house for medical care or adult day care. You also may take occasional short trips outside the home for other reasons, such as to attend church.
Nursing Care
Medicare covers skilled nursing services if your need for them is part-time or intermittent, but it doesn't cover full-time nursing care or home meal delivery. In general, part-time or intermittent means less than eight hours per day for three weeks or less, or fewer than seven days per week.
Qualifying services include medically-necessary care from a licensed practical nurse or registered nurse -- for example, to provide tube feedings or injections.
Home Health Aides and Homemaking Services
Medicare also covers the services of intermittent or part-time home health aides, but only if you're also receiving in-home professional services, such as skilled nursing or physical therapy. Home health aides assist with personal care, such as dressing and feeding.
Similarly, homemaking services such as grocery shopping and cleaning are covered only if you also need professional services and the homemaking services are related to your care.
Therapy at Home
Medicare covers in-home speech-language therapy, physical therapy and occupational therapy if you meet additional qualifications. To qualify, the therapy must be recognized as safe and effective for your problem and the treatment must require the expertise of a licensed professional. If you can reasonably expected to improve with the therapy, or if it's necessary for maintenance, Medicare covers the therapy provided the duration and amount are within reason. After a stroke, for example, you may receive training from a physical therapist to regain your ability to walk and use your arm.
Social Services and Supplies
Medicare pays for home health social services such as counseling when a doctor orders them to help you cope with your illness.
Medical supplies such as gauze that are necessary to the care prescribed by your doctor are completely covered. If your doctor orders medical equipment related to your care, such as a walker, Medicare typically covers 80 percent of the cost.