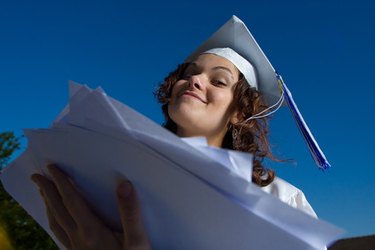 The Illinois State Scholar program does not provide monetary awards. Instead it provides another type of scholarship, handing out the title of "Illinois State Scholar" to the top 10 percent of the state's graduating high school seniors. The Illinois Student Assistance Commission, an organization formed to help ease the financial burden of postsecondary education, bestows the honor in hopes of helping students pursue higher education opportunities.
Selection Process
Students need not apply for the Illinois State Scholar program. High schools report performance-based academic data and verification of Illinois residence to the Illinois Student Assistance Commission, and the commission, in turn, gives out the award. Upon selection, both the student and her high school receive a certificate of achievement from the ISAC. Selected students also receive a congratulatory letter from the commission.
Eligibility Requirements
Each Illinois State Scholar recipient must be a U.S. citizen or an eligible non-citizen attending an approved Illinois public high school. Students must take the ACT, SAT or Prairie State Achievement Exam by the end of the third semester before graduation. To receive the award, students must score in the 95th percentile on the test and perform in the top one-half of their high school class. Only students who have graduated from high school during the academic year are eligible for the title.
Distribution
Distribution of the state scholar title varies per academic year, as the award is based on student enrollment and performance. In 2009, for instance, the Illinois Student Assistance Commission recognized 19,345 students from 752 high schools across the state. In the 2008 academic year, 18,178 students were recognized as Illinois State Scholars.
Benefits
In place of monetary assistance, the Illinois Student Assistance Commission positions the Illinois State Scholar program as a resource to obtain support. Recipients of the Illinois State Scholar title can list the honor on applications for college admissions and scholarships. The ISAC encourages recipients to include the title on Free Application for Federal Student Aid (FAFSA), which includes Illinois' $400 million Monetary Award Program (MAP), a need-based financial assistance award for higher education.