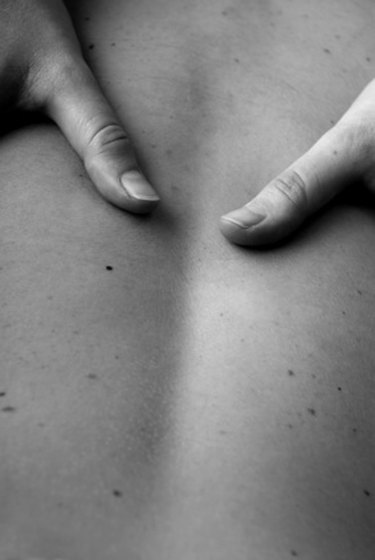 A medical massage therapist provides remedial massage services to assist patients who have suffered physical disability due to injury or illness. The massage therapist will confer with patients about their medical histories and current afflictions, then devise suitable therapy programs and use manipulations of muscles and other soft tissues to aid pain relief, flexibility and mobility. She may use complementary materials such as infrared lamps and whirlpool baths. She will work with other health practitioners, such as occupational therapists and refer patients as required. Her salary varies, according to her employment circumstances.
Average Salary
Wage data published by the U.S. Bureau of Labor Statistics in May 2009 listed the mean annual salary for a massage therapist working in America as $39,780. This is equivalent to a monthly income of $3,315 or a pay rate per hour of $19.13. The BLS also reported that the median 50 percent of earners received a mean salary of $35,230, the top 10 percent of earners in the profession gained $68,670, and the lowest-earning 10 percent received $17,270.
Salary by Industry
The salary level for a medical massage therapist can alter depending upon which sector of the health-care industry she works in. The Bureau of Labor Statistics cites specialty hospitals as offering the highest average salary--$55,100. The offices of physicians were listed at an average salary of $39,450 per year, while the offices of other health practitioners offered a massage therapist a wage level of $44,290. Outpatient care centers were listed at $45,720 while positions within personal care services had an average annual wage of $37,700.
Salary by Location
The geographical location in which a medical massage therapist is employed will also affect her salary level. According to the May 2009 Bureau of Labor Statistics data, Alaska is the state offering the highest mean wage levels--$85,050--followed by Washington--$52,550--and Oregon--$51,800. Delaware and New York are listed with similar levels of salary--$49,900 and $48,900 respectively. Nevada was listed as offering a mean annual salary of only $21,520. Anchorage, Alaska was detailed as the single metropolitan area with the best pay rates--$86,530.
Prospects
The Bureau of Labor Statistics predicts that the employment market for massage therapists will grow by around 19 percent in the decade between 2008 and 2018. This is faster than the national average across all professions, pitched at between 7 and 13 percent for the same period. The BLS highlights America's aging population as a major factor in this growth, with the increased incidence of condition among the elderly that require pain relief treatments or programs to improve mobility. As such, medical massage therapists should continue to receive very competitive rates of pay.