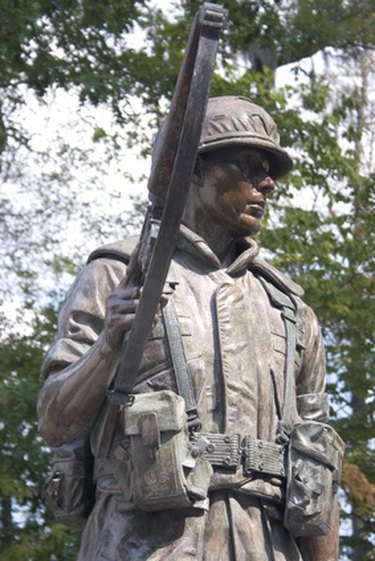 One of the seven divisions of the United States Armed Forces, the U.S. Marine Corps works with the United States Navy to provide combined-task defense across America's coastline. Like all branches of the U.S. military, the Marine Corps offers numerous positions, each with varying salaries and benefits that increase with experience and rank. Those interested in enlisting can call 1-800-MARINES to speak to a local recruiter.
Combat Positions
According to global online compensation database PayScale, the median annual salary for a U.S. Marine Corps ground combat Corporal is $26,987 as of 2011. The same source reports median annual incomes of $36,328 and $23,707 for U.S. Marine Corps police or sheriff's patrol officers and firefighters, respectively. In 2011, the Marine Corps Times reports that an enlisted Marine with less than two years of service making basic pay earns $1,467.60 per month or $17,611.20 per year.
Noncombat Positions
A 2011 PayScale report indicates a wide range of salaries for U.S. Marines serving in noncombat positions. According to these figures, an avionics technician earns a median annual salary of $40,800 while an aircraft mechanic or service technician earns about $26,484 yearly. Network administrators in the Marines earn median salaries of $31,600 annually while intelligence analysts top the chart with median salaries of $53,867.
Variables
The salary of a U.S. Marine varies greatly depending on his pay grade. Enlisted Marines, warrant officers and officers all have nine different pay grades that affect pay and benefits accordingly. Years of service also have a great effect on salary. For instance, a warrant officer with four years of service under his belt might earn an annual 2011 basic pay salary of about $39,000 while a 20-year officer makes between $50,000 or more. These figures account for 12 months of service per year with basic pay. Drill pay drastically decreases the amount of monthly earnings.
Benefits and Bonuses
U.S. Marines receive basic allowances for housing with dependents, dislocation, clothing and subsistence. Again, allowances vary depending on rank. Housing allowances in 2011 range from about $700 to $3,000 per month while subsistence allowances range from about $225 to $325 monthly. Marines also receive special pay rates for hardship duty, service during imminent danger and involuntary separations. The U.S. military provides Marines with medical and dental insurance coverage.