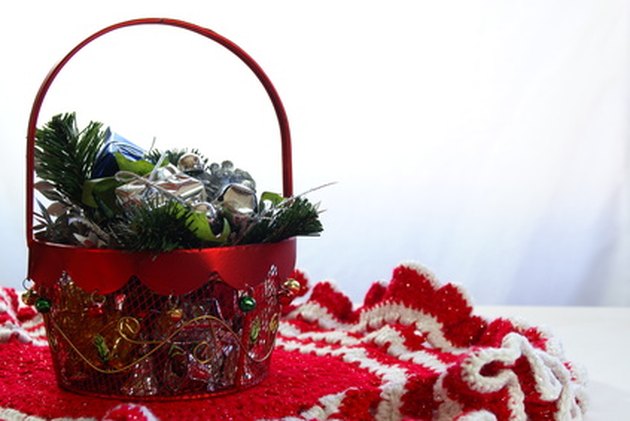 As you make your Christmas gift list, you might be overwhelmed by the sheer number of people you have to buy gifts for. When you factor in immediate and extended family and close friends as well as some coworkers and neighbors, you know your wallet is going to take a hit. Stay out of debt during the Christmas season by giving frugal but thoughtful gifts.
Gift Baskets
Instead of buying a gift for every member of your family, give groups of people a gift basket with their interests in mind. For example, if your brother and his family love to play games, give them a game-themed gift basket filled with a couple of board games, a deck of cards and nonperishable snacks like candy and microwavable popcorn to munch on as they play games. Think about gift-basket themes that each member of the family will appreciate to make sure your gift hits the right note. Plus, these gift baskets are far cheaper to put together than store-bought varieties.
Crafts
If you're a crafty person, put your skills to use by making homemade gifts for everyone on your list. If you love to make jewelry, give the women on your list earrings, necklaces or bracelets, whatever your specialty is. If you're a graphic artist, create a digitally drawn image of the family or the family pet and frame it. The cost of supplies for a homemade gift will be far cheaper than buying a gift in the stores.
Homemade Treats
Nothing says Christmas like homemade goodies, so use your love of baking to mark names off of your holiday gift list. Fill Christmas-themed tins with your favorite Christmas cookies and candies, and give that sweet treat to coworkers and neighbors for the holidays. Or, make the gift last longer by filling Mason jars with the dry ingredients for your favorite cookie. Attach the recipe with a Christmas-colored ribbon. Your recipient can bake your treat whenever they're ready for it.
Gifts from Kids
Use your children's creativity to make gifts for family members. Grandparents will love a handmade piece from children. So, give your children paint or markers to draw a picture just for grandma and grandpa. Frame it, and they'll surely display it on their walls. If you have young children, frame an image of the child's handprints or footprints, and write the date and year on it.