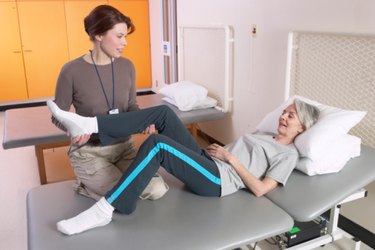 Unlike medical practitioners who assist people in rehab for mental or dependency issues, occupational therapy assistants (OTAs) perform rehabilitation for physical problems caused by disease, accident, illness, injury or surgery recovery. OTAs help patients regain ability to perform tasks many people take for granted, such as walking, dressing, personal hygiene and cooking. OTAs work in conjunction with a supervisory occupational therapist, often in a hospital, clinic, doctor's office or rehab setting.
The Facts
After studying the salaries of occupational therapy assistants across the country in 2009, the U.S. Department of Labor Bureau of Labor Statistics determined a countrywide average of $24.44 per hour for the profession. The BLS also identified several industries paying their occupational therapy assistants higher hourly rates. Home health care services, paying $29.32, led the nation in OTA salaries. Temporary employment services for OTAs also paid at a higher-than-average rate of $26.31, along with nursing care facilities, paying $25.98 per hour.
Location
Texas occupational therapy assistants earned significantly higher than their colleagues across the country, earning $31.68 per hour in 2009. Idaho placed second at $30.50 per hour, followed by New Jersey OTA salaries at $28.82 per hour. In fourth place, Florida averaged $27.76 per hour and California ranked as the country's fifth top-paying state for OTA salaries with $27.51 per hour.
Considerations
The path to earning a salary as an occupational therapy assistant begins with enrollment in one of 135 associate degree programs at community colleges and technical schools across the country, accredited by The American Occupational Therapy Association. On a per-state basis, prospective occupational therapists may have to complete exams, supervised fieldwork, registration and certifications.
Outlook
The Department of Labor projects a continued 30 percent rise in employment of occupational therapy assistants through 2018, adding 7,900 jobs to the field across the nation, a growth much faster than average. An aging population is expected to contribute to the demand for people in this profession.