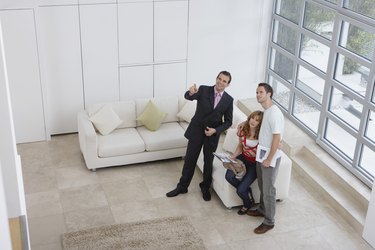 Inadequate insurance can add insult to injury after a devastating event destroys your home. Whether you own a mansion or a condominium, you need the right homeowners insurance to safeguard what's likely your biggest investment. HO-6, or "walls-in," insurance is designed for the distinct needs of condo owners, allowing them to weather the financial storm that comes with losing a property or prized possessions.
Condo Insurance Basics
As a condo owner, everything within the walls of your unit belongs to you. Unlike traditional house owners, condo owners share walls, roofs, parking lots, and other features of the complex. Owners chip in to cover the property's expenses, such as management and maintenance, via monthly condo fees. Homeowners associations establish rules that govern the complex and HOAs usually get insurance for the common grounds. HO-6 insurance fills the gap between what your HOA's insurance covers and what's inside your unit.
HO-6 Insurance Definition
Insurance companies offer eight types of home insurance policies, or "HO," policies. They serve from the basic homeowner with an HO-1 policy, to renters with HO-4 coverage, and condo owners, with HO-6. An HO-6 policy covers 17 damage-causing events and certain building items within your unit. In insurance lingo, casualty-causing events are known as "perils." Common condo catastrophes that HO-6 policies cover include fire, smoke, falling objects, theft and certain water-related damage.
HO-6 Insurance Considerations
You may want to buy HO-6 coverage, even if your HOA's policy covers unit interiors, due to the low coverage limits and high deductibles of HOA policies. InsureOurCondo states that most condo owners take out dwelling coverage of $10,000 with a $500 deductible. Dwelling coverage insures your condo's drywall, wallpaper, paneling, floors, carpet and cabinetry, according to the website. Fixtures and appliances that are part of the interior's building, or affixed, are also covered.
Calculating Coverage
You can determine how much coverage you need with your HO-6 policies in one of two ways. One way is by taking an inventory of your condo and placing a value on each of your possessions -- both the big ticket and low-cost items. You can back up your inventory list with photos and video. The other manner of calculating the coverage you'll need is less tasking. As a rule of thumb, each 1,000 square feet of space holds $40,000 in personal property, according to InsureOurCondo.