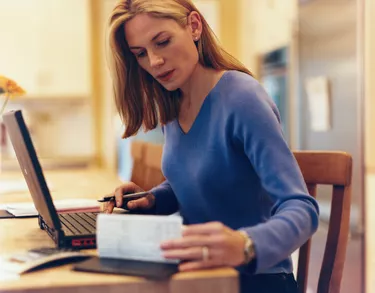 Things You'll Need
Bank account

Internet connection
Tip
Always log out of your Net banking account after completing your banking to protect your online account.
Choose a bank that provides high security for Net banking. Ask the bank if it uses Secure Socket Layer (SSL) technology to protect online transactions. Ask if it has an account lock feature to automatically lock your account after multiple failed attempts to open it. If an unauthorized user tries to access your account by attempting various password combinations, this feature prevents illegal access. Ask for all the methods your bank implements to ensure secure account access. You can either call the bank or visit its website for such information.
Net banking allows you to bank at your own convenience. With a Net (Internet) banking account, you can access your account at any time and get answers to account-related inquiries without a customer service executive. A Net banking account lets you check your account balance, transfer funds and pay bills. You can view your transactions and send feedback and service requests, such as inquiries about a specific transaction or clarifications about banking service. Net banking is a free-of-cost service, but account-related fees are applicable.
Step 1
Visit your chosen bank's website and select the option that initiates the Net banking process. Enter your name, address and email address in the designated fields. Provide your ATM or check card number and pin, and your Social Security Number, if required by the bank, in the format specified in the registration form.
Step 2
Read the terms and conditions, which list what to expect in online banking and the bank's confidentiality policies regarding your personal information. This section asks for your agreement--check the box provided to indicate your agreement.
Step 3
Proceed to create your log-in name and password, which you'll use to access your account online. Create a strong password that uses both numbers and letters. You must provide a security question, which the bank will use to retrieve your log-in details in case you forget it.
Step 4
Complete the registration form. Log in to your account using your ID and password, and check the account details.