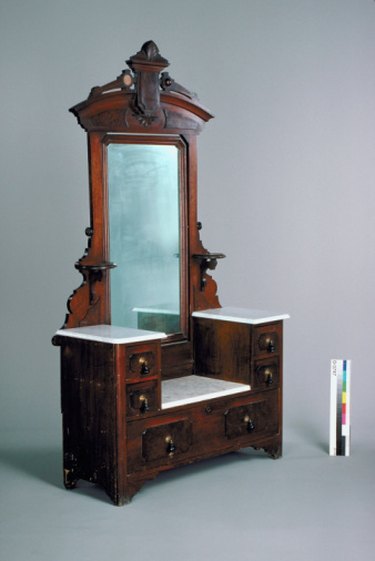 Many people own antiques. Sometimes these items were passed down through family. In other cases, owners purchased antiques as an investment they hope will be worth more down the road. In either case, the owner often wants to know the object's true value. If your antique is an old mirror, you'll need to hire an appraiser who can give you a reliable estimate.
Finding an Appraiser
Step 1
Search through your local telephone directory for antique appraiser listings. Ideally, you want to find an appraiser with special knowledge about old mirrors. So, ask about the person's qualifications.
Step 2
Check with local antiques shops. Many antiques shop owners are also appraisers. If they're not, they often can refer you to a reputable appraiser in the area.
Step 3
Search online for local antique appraisers in your area. The American Society of Appraisers website has a "find an appraiser" search function. If you're having difficulty finding an appraiser in your area, try finding one who will offer his services online.
Choosing an Appraiser
Step 1
Ask about the appraiser's credentials. Find out her years of experience, training, areas of expertise, cost of appraisal services and any certification or accreditation she might hold.
Step 2
Ask for references. A reputable appraiser should provide you with verifiable references.
Step 3
Call the appraiser's references. Ask about their experiences with the appraiser and find out if the items they had appraised were accurately valued.
Step 4
Pick an appraiser you feel most comfortable with and the one you feel will provide the most accurate appraisal.
Getting the Appraisal
Step 1
Take your old mirror to the appraiser to be evaluated.
Step 2
Keep your mirror in sight while the appraiser examines it. Do not leave the mirror with the appraiser.
Step 3
Get your appraisal in writing and signed by the appraiser. This document will be key if you decide to sell the antique mirror.
Tip
It's best to have antiques appraised by a several experts, because their quotes may vary.
Warning
Never sell your item to the person appraising it, because this could create a conflict of interest. The appraiser could take advantage of your trust by giving a low estimate of the item's true worth.