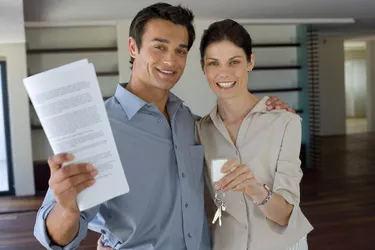 Deeds transfer title to real property. Warranty deeds are special in that they contain promises that other deeds do not. With a warranty deed, the person receiving title to the land (called the "grantee") receives promises from the grantor (the person giving away title) that the land is free from liens or encumbrances and that the grantor has good title. In Texas, section 5.022 of the property code lists the statutory form for a warranty deed. This form can be used to create warranty deeds in Texas.
Step 1
Write the county where the property is located on line provided next to the words "County of" beneath the words "The State of Texas."
Step 2
Write the name and address of the grantor on the lines provided after the words "Know all men by these presents, That I."
Step 3
List the dollar amount given for the property transfer on the line after the words "for and in consideration of." Note that according to Lonestar Land Law, the actual price need not be listed, but some price must be. You could, for instance, write "for ten dollars and other valuable consideration." This preserves confidentiality which may be desired in some cases.
Step 4
Write the name and address of the grantee on the lines provided after the words "convey unto the said." In the statutory deed form in Texas, three lines exist for the name of the grantee to be written on them.
Step 5
Write the legal description of the property on the lines after the words "all that certain." This appears after the first line for the name and address of the grantee in the Texas statutory warranty deed.
Step 6
Sign the deed in the presence of a notary public in Texas. One witness must also sign the deed. Deliver the deed to the grantee to complete the transfer.