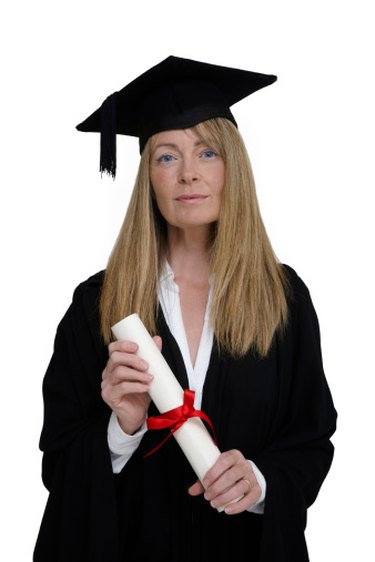 In the teaching field, a variety of factors go into determining your salary. One is location -- not only the state in which you teach but also the specific district, as inner cities and rural areas often pay less than wealthier suburbs. Another factor is whether you teach in a private or public school. Your own education makes a difference, as having a master's degree will have an impact on your salary.
Grade Level Variations
Teachers with master's degrees are subject to variations in pay due to the grade level that they teach. According to a PayScale salary survey in October 2010, an elementary school teacher with a master's degree earned a median salary of $45,418. That was slightly less than high school teachers with a master's degree, who earned a median salary of $48,222.
Degree Comparisions
An average high school teacher with a general Bachelor of Arts degree earned between $36,547 and $51,795 in October 2010, according to PayScale. With a Master of Arts degree, however, the average salary ranged from $39,383 to $56,138. The average salary of a high school teacher with a Bachelor of Arts in English ranged from $34,987 to $50,638 while a Master of Arts in Education resulted in a salary range from $39,753 to $55,731. That's roughly $5,000 a year more from having an advanced degree.
Public School Salary Additions
Many public schools want to encourage additional certifications in their teachers, so they provide incentive pay on top of advanced degrees. For example, teachers in the Wake County Public Schools of Raleigh, North Carolina, earned a flat rate of $126 per month in 2010 for advanced certifications in addition to a master's degree. Annual salaries are based on "years on license." Teachers with zero to two years would earn an annual salary of $38,072; pay ranges up to $67,493 for 33 years.
Post-Secondary Salaries
Salaries for post-secondary teachers with a master's degree can vary based on major subject. In October 20010, PayScale averaged salaries for all post-secondary teachers -- including professors, associates and assistants -- and then segregated them by degree or major subject. It found that Master of Arts degree holders earned the least, with an average salary of $45,727. Master of Science degree holders earned an average of $50,877 and Master of Fine Arts holders earned the most at an average of $53,425 per year.
Post-Secondary Benefits
In addition to higher salaries, university faculty members often have perks not available to other teachers. For instance, they might have earnings opportunities from outside consulting, publishing, research and teaching additional courses. University faculty get many additional benefits ranging from access to campus facilities, special housing and travel allowances, dependent tuition benefits and paid sabbaticals.