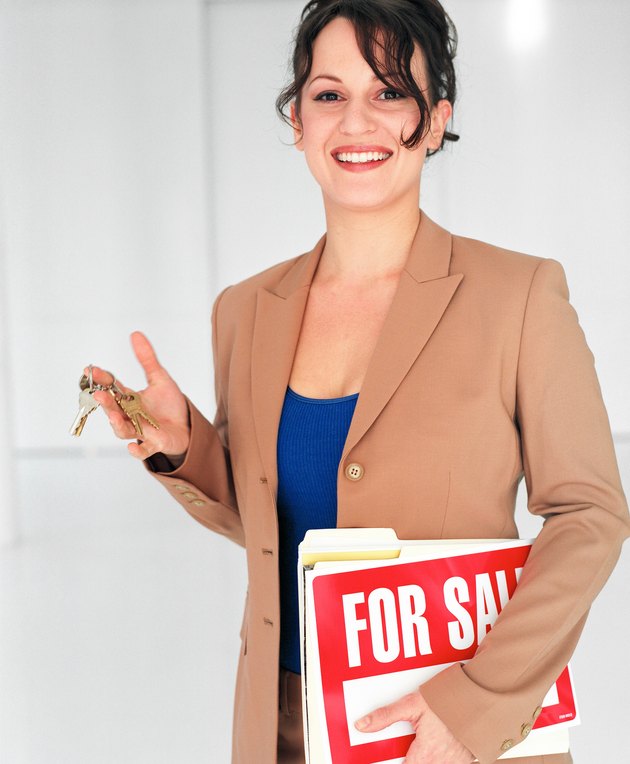 If you enjoy working with the public, have a flair for architecture, decorating and renovation, and if you love the challenge of selling a tangible commodity, then perhaps real estate is the career for you. Real estate salespeople need to form strong, cordial relationships with clients, builders, lawyers, loan officers and accountants. Professional licenses and certifications are required to practice your craft. Explore the educational opportunities and tuition costs to pursue study to prepare you to pass your state's licensing requirements.
Online Education
Online training is available for students planning to enter into real estate career fields. The training programs provide a diverse knowledge base of major areas within the real estate field and help prepare candidates for their state licensing exams. Prior to considering an online course, research the time involved, support and cost of classes and supplies. Courses vary greatly with charges ranging from hundreds to thousands of dollars. On average, online courses cost approximately $250 to $325 per semester hour. Online education is a wonderful tool, however, the student should be aware of its limitations and check references and certification of the training program prior to enrollment.
Requirements, Rules & Regulations
Rules, regulations, requirements and approved classes vary from state to state. Contact your State Board of Realtors to locate an approved class and study program in your local area. Examination and license fees also vary by state. In regions where metropolitan areas extend into more than one state, reciprocal state licenses may be available. Addition schooling and fees may apply.
Vocational Schools & Community Colleges
Community colleges and local vocational schools offer classes to prepare candidates for a career in real estate. There are classes for students that wish to pursue a real estate license as well as training for real estate appraising, property management, mortgage broker, loan originator or loan officer. Grants, scholarships and student loans are available for qualified candidates.
On-The-Job Training
Several mobile home manufacturer's, builders of modular homes, or new home construction companies hire employees without a real estate license and offer on-the-job training to prepare them for the state licensing exam. There is no cost for the training. Employees are paid a commission on generated sales after they acquire their real estate license.
Board of Realtors
The National Board of Realtors is composed of state chapters all across the United States. Contact the board for a referral to an approved and sponsored real estate school in your state. Classes normally cost less than other real estate training programs and allow you to work directly with agents familiar with your local area.