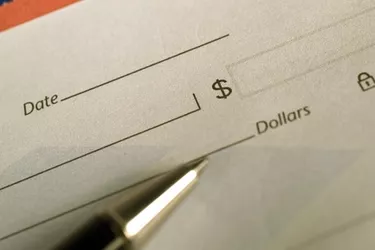 Endorsement stamps are a quick, safe method for your business to use when compiling bank deposits. Placing your banking information on checks in one quick movement frees you for other things and can help prevent theft. The price of a custom stamp depends on the number of lines you want, so knowing what information is a requirement and what is optional can save you money.
Deposit Account
You must have a bank deposit account to use an endorsement stamp. This account will be a business checking account if you are depositing customer payments, although you can use an endorsement stamp for your personal accounts if you choose. Your endorsement stamp must display the account number.
For Deposit Only Line
A "For Deposit Only" line on an endorsement stamp restricts a bank's ability to accept a check. The bank must deposit the funds into the bank account and are not able to cash the check for you. Stamping a check immediately when you receive it will prevent someone from cashing it if it is lost or stolen. Alternately, an endorsement stamp can display "Pay to the Order of" if you intend to cash the check.
Legibility
Your stamp must produce legible stamps. The quality of the stamp that your endorsement stamp produces can deteriorate over time. The rubber can break off, and if the stamp is self-inking it can run out of ink, so it's important to inspect the stamp regularly and replace it as needed.
Other Stamp Lines
You should include your business name and bank name on the stamp even though these are not requirements. Including this information prevents misdirection of the check to another bank or account. It is also possible to have both your and your bank's location on the stamp.