Bright colors, exotic flowers, Hawaiian music and island flavors evoke the spirit of vacation, and are surefire ways to get your guests to R.S.V.P for your luau party. However, between the food and the decorations, things can get costly — and quickly. But, with a little patience and a DIY attitude, you can host a budget-friendly luau that transports your guests to the "Aloha State" without your wallet needing a vacation when it's all done.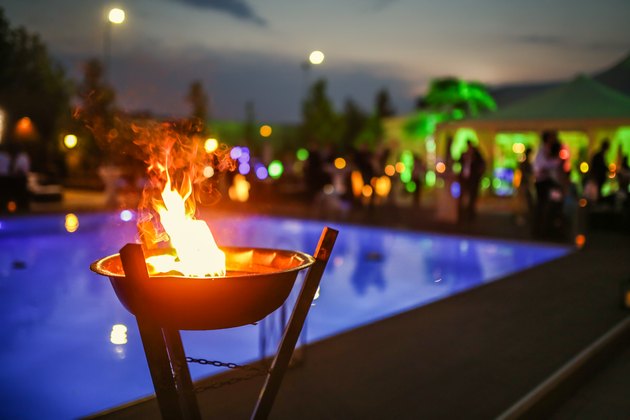 Make Your Own Luau Decorations
Luaus incorporate tropical flowers and bright colors in their design. Achieve the same look with less costly or inexpensive decorations. Instead of fresh flowers, consider purchasing silk flowers in bright colors. You then remove the flowers from the stems. Next, run a piece of string through the flowers, alternating with large plastic beads. Hang the finished leis around the party for extra color. Make your own centerpieces by pouring sand into glass containers and decorating with small seashells. Buy inexpensive bamboo mats and place them on the ground to create your dance floor. Faux palm leaves also work with the luau theme, and are fairly inexpensive. Also, party stores often mark-down their summer items towards the end of summer and fall. It's a great opportunity to stock up on luau necessities for a fraction of the cost.
Gifts for Guests
Craft individual gifts for your luau party guests. Purchase inexpensive craft wood or cardboard picture frames. Paint the frames in bright colors such as red, yellow or orange, and attach silk flowers to the corners using a glue gun. Gift each guest with their own frame by setting one on each seat. Having a way to send the guests home with a photo of the party to put into the frame also adds a nice touch. Green crepe paper provides a simple way to make grass skirts, especially for younger kids. Cut the crepe paper into long strips and cut lengths of twine, for the top of the skirt. Wrap the edges of the crepe paper over the top and glue in place.
A Taste of Island Flavor
Use a ring mold or cake pan to make a fruity ice sculpture for your party. Fill the pan half-full and freeze until solid. Pour a small amount of water on top and lay cut fruit on top of the ice, including strawberries, pineapple and citrus fruit. Freeze again, until the fruit doesn't move. Top with more water and freeze overnight. Place the finished mold in the center of your punch bowl and pour fruit punch right over the top. You can then make fruit kebabs with any of the remaining fruit by threading it onto bamboo skewers. If you don't want to go through the expense of catering the event with authentic Hawaiian food, then think tropical flavors. Recipes that include pineapple, coconut, mango, papaya, citrus and seafood are popular on the islands. This is where you can really let your imagination go wild and impress your guests with island-inspired creations that won't break the bank.