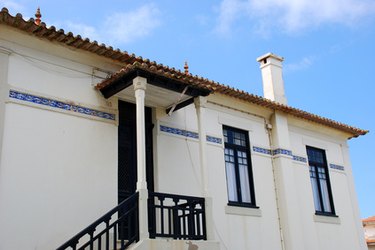 A lien is placed on real property or personal property to secure a debt owed by the property owner. In South Carolina, a judgment is considered a lien, allowing the creditor to secure the debt according to Legal Dictionary. Therefore, after judgment is awarded, you may place a lien on a debtor's real property in South Carolina.
For example, if work is done on a property owner's home and no payment is received, the contractor may place a mechanic's lien on the property. In South Carolina, a mechanic's lien takes precedence over other liens and is paid first if the property is sold or refinanced.
Step 1
Find the name of the South Carolina real property owner. Also, locate the address of the property. Jot down the name of local landmarks, such as a school, to help identify the property on a map. For instance, in Charleston, South Carolina you may use Burke High School as your landmark.
Step 2
Visit the courthouse in the county in South Carolina where the real property is located. Choose the county from the map listed in the references under "Choose Your SC County." View the county map and locate the courthouse.
Step 3
Go to the Tax Assessor's office first. Locate the South Carolina property on the tax map. Write down the lot and block number or the metes and bounds number to help locate the correct property deed.
Step 4
Visit the office of the Register of Deeds in the courthouse. Gets a copy of the deed matching the property description and owner's name.
Step 5
Request a copy of the form required in South Carolina to file a lien on the real property. Each county has a unique form, so ask the Register of Deeds to provide it for you.
Step 6
Submit the completed form to the Register of Deeds. Pay the fee required to file and record the lien, which is generally $25 in most South Carolina counties.
Things You'll Need
Property information

Deed

Lien form

Fee