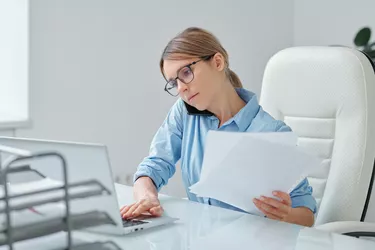 Starting a stock brokerage firm can be a profitable venture. Vanguard, Fidelity, Charles Schwab and other industry-leading brokerage companies earn billions in revenue. For example, Fidelity Investments generated over ​$20.9 billion​ in 2019, according to Forbes. The organization has more than 50,000 employees and promotes its services through 5,000 financial intermediary firms.
Tip
Stock brokerage firms are subject to strict legal regulations. Be prepared to file extensive paperwork, take several exams, apply for licensure and register with the Financial Industry Regulatory Authority and other governing bodies.
As a newcomer to the industry, you can't expect to earn that much. However, it's possible to build a successful business and grow year after year. Plus, you can operate entirely online by leveraging stock trading platforms. Follow these steps to open a stock brokerage firm and increase your chances of success.
Starting a Stock Brokerage Firm
Stock brokerage firms buy and sell shares on behalf of their clients. Their revenue comes from the fees or commissions charged for each transaction. Some companies charge a flat fee, while others receive a percentage from the sale of stock and other financial products. Generally, they employ several brokers who act as intermediaries between buyers and sellers. Customers can either open a brokerage account online or visit a local branch and then select the type of investment.
The first step to starting a brokerage firm is to learn about the financial market. Familiarize yourself with the most popular stock trading platforms, research the legal requirements and decide on a business model. Study the different types of brokerage firms and choose one that aligns with your vision.
For example, full-service stockbrokers offer a wide range of financial products, from business loans to asset management. Discount stockbrokers operate in a similar manner but charge smaller commissions and provide more trading options than full-service brokerage firms. Each type of business is subject to different regulations.
With these aspects in mind, draft a business plan and decide on the next steps. Determine the costs involved in starting a stock brokerage firm, including employees' wages, overhead expenses, state registration fees and capital reserves. The Financial Industry Regulatory Authority (FINRA) explains that stockbrokers must maintain ​$5,000​ to ​$1,000,000​ in net capital (depending on the type of business), plus additional funds required to meet their contractual obligations.
Your business plan should also include information on the target market and service pricing. For example, you may want to target high net worth clients with at least ​$1,000,000​ in assets. But you can also market your services to young entrepreneurs or trading enthusiasts with an above-average income. Determine how you are going to make money, prepare a financial forecast and seek ways to secure financing for your startup.
Another aspect to consider is whether you want to operate online or open a physical office. The latter option involves higher costs and may not be necessary, depending on the services you provide. After you make a decision, create a marketing strategy that would allow you to reach the target audience and stand out from the competition.
Meet the Legal Requirements
The financial markets are strictly regulated by the U.S. Securities and Exchange Commission (SEC), FINRA and other organizations. To comply with the law, you must first register your business with the state and choose a legal structure, such as a limited liability company (LLC) or partnership. Next, you have to apply for federal and state tax ID numbers. These unique identifiers allow you to open a business bank account, pay taxes, hire employees and more.
Once these steps are completed, you must obtain a license to sell investment products. To do that, register with FINRA and then take the Securities Industry Essentials (SIE) exam and the General Securities Representative Exam. The tests cover aspects like money market funds, warrants, venture capital, government securities and legal framework.
Candidates who pass the exams must file Form BD with the SEC, wait for its approval and then apply for FINRA membership, among other requirements. Check the FINRA Manual to see the exact steps needed to start a stock brokerage firm and achieve legal compliance. Also, note that each state has different requirements for stock brokerage firms. Consider reaching out to an attorney to help you navigate the ever-changing laws governing the financial markets.