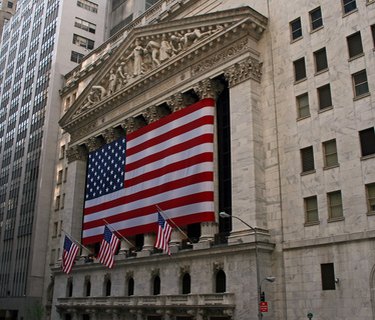 A stock brokerage firm can be either institutional or retail, although some on Wall Street, like Merrill Lynch and Morgan Stanley, serve clients in both capacities. Institutional brokerage firms have agency clients only, including money managers and other brokers. They are members of a stock exchange and known as floor brokers. Non-member brokers, namely many retail brokerage firms such as Scottrade, the online discount stock broker, do not have the access to trading directly with market makers or specialists inside an exchange on the floor, and must trade through member firms. But some retail brokerage firms are actually floor brokers, like Fidelity Investments, which makes it possible for them to offer their customers prices that are closer to the best national bid and ask prices.
Step 1
Register with appropriate regulatory authorities and organizations. Unless a broker intends to conduct business solely within a state, it must register with the Securities and Exchange Commission by filing Form BD, the Uniform Application for Broker-Dealer Registration. It is also required that a broker may not begin business until it has become a member of a self-regulated organization (SRO) such as a national securities exchange or FINRA, the Financial Industry Regulatory Authority. With few exceptions, a broker must also be a member of the SIPC, the Securities Investor Protection Corporation, which insures brokerage customers up to $500,000 in a broker liquidation.
Step 2
Have partners, managers and employees registered with FINRA and arrange for them to pass their securities exams. In addition to a brokerage firm becoming a member of FINRA, its associated persons who effect securities transactions for the firm must also register with FINRA by filing Form U-4 through the firm. FINRA also sets qualification requirements for associated persons including passing a series of securities examinations. Among them, the comprehensive series 7 for corporate securities trading must be taken by anyone wishing to be a registered general securities representative.
Step 3
Choose either to become an exchange member or sign an institution brokerage account agreement with another floor broker. Because there are only a limited number of seats from any stock exchange, new brokerage firms interested in becoming an exchange member have to either wait for a vacant seat to be for sale, or lease a seat from a current seat owner. Other firms may elect to conduct their brokerage business through a member broker. The New York Stock Exchange, for example, has 1366 floor brokers, including 7 designated specialists or market makers that non-member brokers can choose when routing their customers' orders.
Step 4
Set up an infrastructure and platform for receiving and routing customer orders. These include purchasing computer servers, creating a website and choosing a stock trading software company for trading platform installation. All brokerage firms nowadays provide customers with access to online account management and online trading of securities. Depending on the intended size and complexity of the new brokerage firm, align your needs with the right version of trading software, full-fledged or scaled-down. Tech companies providing financial software offer such choices.
Tip
Using a specialist or market maker for order execution, a brokerage firm can get their customers better bid and ask prices, but at the same time a market maker will specialize in only certain stocks.
Warning
Any Internet presence of a broker's business that is accessible by persons in another state is considered an interstate offer. By definition, an intrastate broker cannot participate in and effect transactions executed on a national securities exchange or NASDAQ.
State registration may also be required for SEC-registered brokers. Contact information about state regulators can be obtained through North American Securities Administrators Association, Inc.
Many FINRA exams are not open to individuals without a broker sponsorship. No individuals can self-conduct any securities business as to effect transactions without first being registered as a broker of some sort, as least as a sole proprietorship.