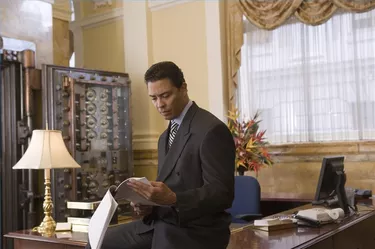 How to Obtain a Banking License. In order to open your own bank or provide services similar to one, you must get the proper license. In addition to an application, notice of intent and registration fees, there are a few other things you need to do to obtain a banking license.
Obtain a Banking License
Step 1
Contact the Commission of Banks or the State Division of Banks in the states in which you wish to open branches. The name of the organization varies from state to state, but each state has a special group that oversees banking and the related licenses. This office will be able to provide you with an application and list of state-specific requirements.
Step 2
Write up a notice of intent. This document should detail all of the services you wish to offer to your customers. Some states may require you to submit a notarized copy of this proposal.
Step 3
Fill out the banking license application and any other documents your state requires. You will probably have to list several personal and professional references. You should inform them of your plan to obtain a banking license before you submit the application.
Step 4
Schedule a meeting with the Commissioner or Superintendent of Banks. The person who oversees all state banking will want to meet with you after you submit your application, but before it is reviewed. Be prepared to discuss your business plans and the reasons you are suited for a banking license.
Step 5
Prepare yourself for a thorough background check. The Division of Banks will look over your professional, educational, criminal and financial background before it makes a decision about your application.
Tip
You may have to go through the application process for every state in which you wish to conduct your banking business. Be sure that you have enough money to pay for your application. Some states require thousands of dollars for each banking license application. Be prepared to disclose the names of all of your shareholders and investors, as well as information on their past business ventures. In some states, if the Division of Banks wants to deny your application, you are allowed to have a hearing and try again for the acceptance of your license.
Things You'll Need
Notarized statement of intent

Bank-license application