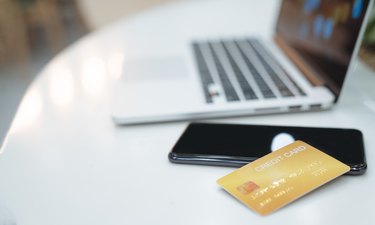 Having a separate business bank account is critical in developing a successful company. In most cases, your banking history is of more interest to banks than your credit report when qualifying for a business account, but poor credit might be a factor in the decision-making process at some banks. If your banking or credit history is keeping you from opening an account at traditional banks, you may need to consider working with an online bank instead.
When you establish a business, it is important to keep your personal and business funds separate. In addition to making accounting easier and providing an extra layer of protection against fraud or a money judgment as a result of a lawsuit, there are other advantages to having a business account.
As the Small Business Administration notes, having a business bank account improves the professional image of your business. You will be able to engage in financial transactions in your business name, rather than your own name.
Business bank accounts often offer a different set of benefits than personal accounts. For example, you may be able to get a business line of credit and a business credit card.
Business bank accounts can, in some cases, be connected to your bookkeeping applications and payroll systems, allowing you to automate much of your business's finances.
Both banks and credit unions offer business accounts. As with any decision regarding finances, it's a good idea to compare the business account programs at different financial institutions so that you can choose the best option for your business.
Qualifying for an Account
Qualifying for a business account is somewhat different than qualifying for a personal checking or savings account. You'll have to provide the bank with the information that it needs to verify the identity and legitimacy of your business, make an initial deposit and pass whatever screening process the bank has put in place.
Each bank has its own standards for opening an account, but some common document requirements include:
A federal employer identification number (EIN). Some banks will allow you to use your Social Security number if you are operating as a sole proprietorship.
Business organization documents, such as incorporation certification or ownership agreements if you have partners.
Your business license.
In addition to a minimum deposit, banks may ask for your permission to run either a ChexSystems search, a credit check or both. According to CNBC.com, ChexSystems is a service that provides reporting on closed bank accounts. If you've had a bank close your account due to fraudulent behavior, writing bad checks or having a negative balance for an extended period of time, your bank may have reported what happened to ChexSystems. A new bank might choose to deny your application as a result.
Opening a business account with bad credit may not be as difficult as you think. For many banks, the ChexSystems report is more important than credit history. Still, some banks may run a credit check and use that information to make a determination about your account, according to BankRate.com. In some cases, the bank seeks to verify your identity by running a credit check, though some may be looking for other issues, such as bankruptcies, fraud and poor financial management.
Alternatives to Traditional Banks
Fortunately, many online banks do not use either ChexSystems or credit histories when authorizing new accounts. Online banks are increasingly offering business accounts, some of which are targeted at freelancers and the self-employed while others are designed for conventional businesses. There are two primary downsides to online business bank accounts:
No physical branch where you can meet face-to-face with a banker if you have questions or concerns.
Online banks may not offer the same kinds of services that a traditional bank will, including lines of credit.
If traditional banks turn down your applications, online banks might be your best option. Negative information on ChexSystems and traditional credit reports will eventually drop off. Once that happens, you can always take your business to a traditional bank.