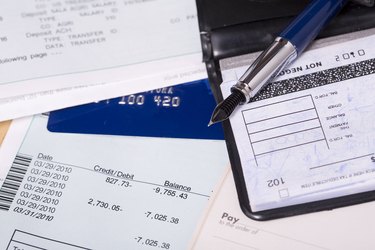 Warning
Beware of scams when searching for a non-ChexSystems bank. Don't sign up for a bank account with over-the-top fees, security deposits or conditions.
Tip
There are banks that do not use ChexSystems. For a few major banks that do not use ChexSystems, visit the Resource section. This is not a comprehensive list; it would be next to impossible to compile one.
When you become past due on a credit card or default on a loan, the creditor reports the information to one of three credit agencies (Equifax, Experian or Transunion). When you charge-off a checking account, your bank may report the information to a different agency; this agency is called ChexSystems. Most banks participate in ChexSystems service, by running consumer reports to qualify applicants, as well as reported delinquent accounts. If you owe another bank money and want to open a new bank account, you'll have to be resourceful.
Step 1
Order your ChexSystems consumer report. You are entitled to a free copy annually; visit the ChexSystems website to make your request.
Step 2
Receive your free report by mail in seven to 10 business days. Examine the report to determine if the delinquent account is listed; if it's not, you have nothing to worry about; you can open a bank account anywhere.
Step 3
Pay off the delinquent account, if possible. It won't remove the delinquent account from ChexSystems, however, it will change the status to paid, which may help you open a new bank account.
Step 4
Visit the bank where you want to open an account. Meet with a personal banker to discuss your options. Explain your situation and furnish proof the old account is paid, if possible.
Step 5
Apply online for a bank account. Most banks allow you pre-qualify for checking accounts on their website. This will avoid any potential face-to-face embarrassment.
Step 6
Consider a credit union, rather than a bank. While most banks use ChexSystems, many credit unions do not. A credit union checking account may offer the same conveniences as a bank checking account.