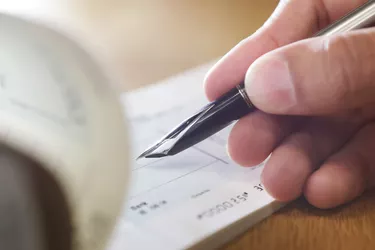 Not having a bank account can be a major challenge, particularly if your previous bank closed your account due to an unpaid overdraft. Fortunately, it is possible to open another bank account, though doing so can be a challenge. In addition, approval for another bank account doesn't remove the obligation to pay back your previous bank.
Dealing With a Closed Bank Account
Banks and credit unions routinely close accounts that have a negative balance for a significant period of time. Typically, the closure doesn't happen right away, but if you don't respond to email, telephone and postal notifications, there is a good chance that your bank will close your account after a period of time has passed.
At this point, the following is likely to happen:
Your bank will report your closed account and negative balance to ChexSystems, a consumer reporting agency that specializes in compiling reports on closed checking accounts and then selling these reports to financial institutions. Since many banks, particularly traditional, brick-and-mortar institutions, use ChexSystems to screen applications for new accounts, it is likely that you'll have difficulty getting a new account with the bank of your choice. According to ChexSystems' online FAQ, information stays on reports for up to five years.
Your bank might pursue collection of the money that you still owe by turning your account over to a collection agency or taking you to court. According to Experian, a major credit reporting bureau, a collection account may appear on your credit reports, reducing your credit score. According to the Consumer Financial Protection Bureau, if the bank wins its court case, the bank could ask the court for permission to garnish your wages and levy any assets that you have, including money in any accounts that you hold.
Second Chance & Online Accounts
If you have a ChexSystems record and can't qualify for a traditional bank account, you still have options. Some banks offer "second chance" accounts. These allow you to pay for items using a debit card: You will not be able to use paper checks, though you may be able to pay bills directly through your online account dashboard or mobile app, and your account won't offer an overdraft feature.
Another option is to open an account with an online bank. Many online-only banks do not rely on ChexSystems and, like second chance accounts, require you to use a debit card for your transactions.
Avoiding Closures, Collections & ChexSystems
Of course, it is always best to avoid having a bank account closed in the first place. If your account has not yet been closed, there may still be options for keeping it open and avoiding having your account reported to ChexSystems or having to deal with a collection agency.
Pay down the balance. Because the consequences of having an account closed by a bank are so severe, it may be appropriate to see if you could borrow some money from family or friends or take a temporary job.
Get in touch. Your bank may take non-responsiveness as a sign that you don't plan to repay your negative balance. Stay in touch with the bank and explain that you do intend to make a deposit as soon as possible.
Point out mitigating factors. If the overdraft is due to fraud, such as someone paying you with a bad check, contact the bank and ask them to work with you. If your overdraft is due to bank fees, rather than actual overdrafts, ask the bank to reverse those.
Review your ChexSystems report. You have a right to request a free copy of your report from ChexSystems. If there is inaccurate information on the report, you have the right to request that ChexSystems investigate the inaccurate information and remove it if the information cannot be substantiated.
Tip
You might have better luck visiting your bank in person and meeting with a banker to negotiate fees or extra time to get your account current.