Small business owners, usually sole proprietors or side businesses, can deposit a check payable to their personal name in a personal checking or savings account. However, for checks payable to a company or business name that differs from the owner of the bank account, banks require safeguards to prevent fraud and reduce liability. Sole proprietors who use a company name must file a fictitious business name with their county or state and furnish a certificate to their bank as proof of ownership. Banks accept these official business documents and may accept checks written to the business name for deposit.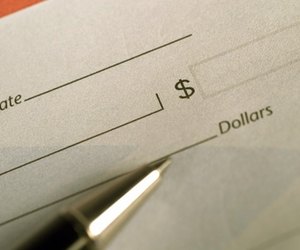 Step
Visit or call your bank's customer service center to amend your checking account information.
Step
Tell the bank that you want to add a business name (also called a "DBA") to your account so that you can deposit checks made out to your small business.
Step
Provide your Social Security number or tax ID number, government-issued ID and checking account number.
Step
Submit a copy of your business license, fictitious business name certificate or certificate of trade name as proof that you own the business to be added to your account.
Step
Write the business name on the back of the check (called endorsing) and make sure it matches the business name on your account and the name to whom the check is made payable.
Step
Write the account number of your checking account, if applicable (some banks recommend that you write the account number for deposit). Complete a deposit slip if applicable (depending on bank policies).
Step
Submit the endorsed check and deposit slip to a bank teller or ATM (depending on your bank policies and your account).