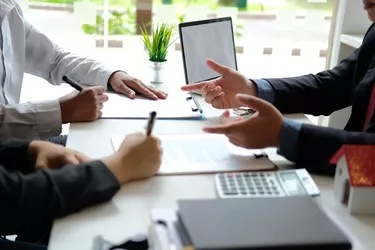 As the third largest private sector bank in India, with locations in India, Hong Kong, Sri Lanka and the United Kingdom, Axis Bank began its operations in 1994. Although its international offerings concentrate on the big business of corporate lending and investment banking, Axis Bank also offers financial services to individuals, including personal loans, car loans, home loans, educational loans, credit cards and savings accounts. Even though none of Axis Bank's 4,050 branch locations is located in the U.S., American citizens can open an Axis savings account because of its new-generation digital footprint.
Types of Axis Savings Accounts
Other than the Basic Savings account, Axis Bank offers many customized savings accounts such as a Youth Savings account, a Senior Privilege Savings account and a Pension Savings account. Each type of savings account is designed to meet the individual banking needs for different kinds of customers. Features of some accounts include daily transaction limits, no minimum balance requirement and cashback offers with certain debit cards.
Closing Axis Savings Account
If you want to close an Axis Bank account, you'll need to follow these three steps:
Submit Axis Bank's Account Closure Form.
Destroy your debit card or cut your card into four pieces and send it back to Axis Bank when you submit the Axis bank saving account form.
Axis Bank issues checks with some savings accounts, which you'll have to destroy or return when you close your account.
Axis Account Closure Form
Visit AxisBank.com and find the "Download Forms" link at the bottom of the home page. Click on the link and find the "Savings and Current Account Closure Form" option. Click on this form name to download and print it.
At the top of the form, there's a field for the date, your name and account number and other information. You'll also choose among 10 reasons for why you want to close your account, including a deficiency in bank services, high fees and moving your account to another bank. Complete the rest of the form, sign it and send it to an Axis Bank branch. Visit AxisBank.com and click "Locate Us" to find a listing of branches and their addresses.
Charges for Closing Axis Account
Depending on the type of account you have, you may have to pay a fee for closing your account. From AxisBank.com, select "Savings Account" under the "Explore Products" menu button. When the page loads, select the type of account you have to find out the amount of your account closure fee. If you've had your account for less than 14 days or more than a year, you may not have to pay a fee for closing the account.
How Long Before Account Closes?
After an Axis Bank branch receives your Account Closure Form, it only takes two business days from the date of receipt before your account is closed. Any remaining funds in your account, less any account closure fee you owe, will be mailed to you at the address on your account.
Before Closing Your Axis Account
If you have any automatic payments that are drafted from your Axis bank account, or if you have any automatic deposits into your account, such as your paychecks, be sure to cancel these drafts. Find out how long it takes for these changes to take place, and cancel your Axis Bank account after the automatic drafts or direct deposits are discontinued.