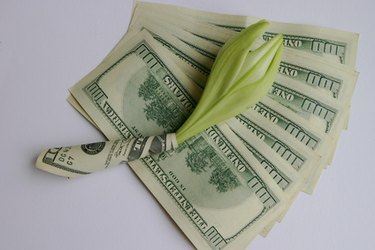 When you need money quickly, you may not have many options when you have bad credit. However, you can get a short-term loan, known as a signature loan, no matter what type of credit you have. The rules and regulations are simple, and many people already meet the requirements to get one.
Step 1
Choose a loan that suits your needs. There are many types of signature loans, such as no-fax, instant and military. You can also choose to apply either online or at a local business. With online companies, you can apply from the convenience of your own home, and you can do so at any time, day or night.
Step 2
Make sure you do not have any other signature loans that are outstanding. Although these companies do not check your credit score, they may check to see whether you have any other loans out. If you owe money to another company, you may be denied for a loan. Clear up any outstanding loans you have before you apply for a new signature loan.
Step 3
Fill out the application truthfully and carefully. You will be asked your current salary, as well as your banking account information. The more you make, the more money you may be permitted to borrow. However, the company will check into your application, so be sure to put only what you make. Also, make sure your numbers are correct, especially when it comes to your checking account and routing numbers. This is how you will receive your loan, so to prevent a delay, double-check your figures.
Step 4
Know the rules and regulations of your state. Each state has different requirements for signature loan companies, such as how high of a finance fee they can charge, whether they have limits on the amount of the loan they can lend out and whether they offer extensions. Knowing the laws of your state will help you stay responsible and smart about your loan.
Step 5
Borrow only an amount that you are comfortable paying back. All signature loans come with finance fees, and these can be anywhere from $10 to $30 for every $100 that is borrowed. This loan will be due on the borrower's next payday, plus the fees, and it is important to know that you can pay back the loan. Some companies do offer extensions, meaning you can simply pay the finance charge and roll the loan over until your next payday.
Warning
Signature loans are meant for short-term solutions only. Many people can become trapped in a payday loan nightmare, with finance charges adding up. A signature loan should be used only as a last resort.