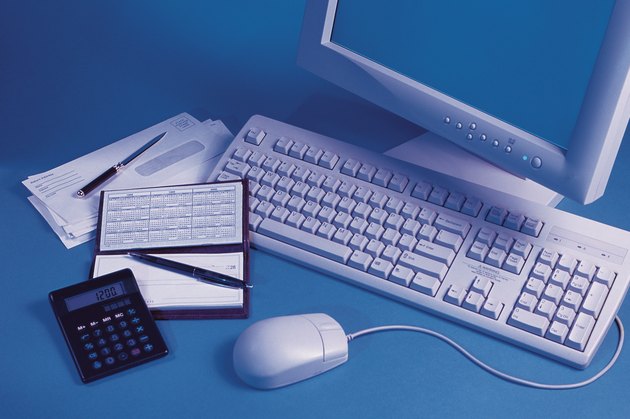 India's largest bank, the State Bank of India, offers a number of financial services, including online personal and business banking. You can apply for online banking via the SBI website or at a bank branch. Even when you apply online, you still must visit a bank branch to complete the process, but starting the application online expedites the application. In the United States, SBI Bank has Federal Deposit Insurance Corporation-insured branches in New York and Chicago and a non-FDIC insured branch in Los Angeles.
Complete Account Opening Form
The SBI account opening form has two parts -- the customer information and account information sections. The customer information section asks for your name, address, phone number, date of birth and Social Security number. Once you complete it, you receive a temporary account reference number, or TARN, which you will need later to link the customer information to your account information. You also need the TARN to edit or print your application. In the account information section, indicate the type of online account and services you want.
Visit Local Branch
After you complete both parts of the account opening form, print it out on A4 white paper -- which is slightly different than 8.5-by-11-inch standard stock -- and read through the SBI rules on the form. Take the form and all supporting documents to an SBI branch within 30 days to complete the process. You need documents that prove your identity and your address. Examples include a passport, driver's license or other government-issued ID. You also need two recent photographs. Sign the account opening form in the presence of a bank official.
Multiple Account Holders
Each person signing up on the online account must complete his own customer information section and bring in the appropriate identifying documents and photographs. SBI allows minors over the age of 10 to apply as well, as long as they can sign the documents for themselves. For accounts with more than three people, you must complete the entire application process at a bank branch.
Sign up for OnlineSBI
To access your online banking accounts, you need to register for OnlineSBI through a physical branch. If you bank at more than one branch, you must open a separate online account for each branch. When registering, you need your name, phone number, email, date of birth and SBI account number. After you register, the branch will give you a user ID and password. Using that user ID and password, log into online banking from the main page. SBI Online banking will direct you to choose a new user ID and password after you log in the first time.