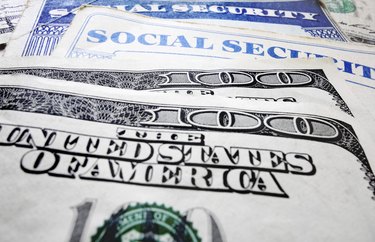 The best-known payments that come under the umbrella of Social Security include retirement and spousal retirement benefits. Although you can qualify to claim retirement benefits as early as age 62, you won't get the maximum benefit at that age. Whenever you're ready to apply, you can make the application online, by phone or in person at a local Social Security office. If you're turning 65, Social Security can handle your Medicare application also.
Preparing to Apply
Gather the necessary information before applying for Social Security. For retirement benefits, you'll need personal data for you and your spouse, including names, dates and places of birth and Social Security numbers. You'll also need details on your employment, including your employer's name and your employment dates. If you served in the U.S. military, provide the branch, type of duty and dates of service. You'll also need to provide your net income from any self-employment. Choose a bank account for direct deposit, and obtain a statement or check supplying the bank name, account number and routing number. If you're also applying for Medicare, obtain information on your current health insurance.
Applying Online
Log on to the Social Security website to apply for retirement, spousal or Medicare benefits online. Click the "Start a New Application" button and supply the necessary data to make your application. The process should take 10 to 30 minutes, according to the Social Security Administration, but you can save your application to finish later if you like. Once you've finished, you can check the progress of your application online. Social Security will contact you if it needs additional information.
Applying by Phone
If you prefer, apply for Social Security benefits by telephone. Have the necessary documents in hand before you dial, and call toll-free at 1-800-772-1213. Use 1-800-325-0778 if you're hearing-impaired. Operators are available Monday through Friday from 7 a.m. to 7 p.m. in each time zone. Phone service is only available for those who live in the U.S.
Applying in Person
Applicants living in the U.S. or its territories can apply in person at a local Social Security office. Find the address and hours of the office nearest you by entering your zip code in the online office locator tool. To avoid lengthy waits, call first to make an appointment at 1-800-772-1213 or 1-800-325-0778 for hearing-impaired. The same operators can also provide the address of your local office. Applicants living abroad must apply at a Social Security field office or American Embassy or Consulate. Visit the Social Security website to locate these offices.
Timing Your Application
You can apply for Social Security retirement benefits as early as the age of 61 years and 9 months, or three months before the minimum age to collect. Social Security recommends applying three months in advance and won't process applications more than four months early. Processing time varies. But if you're already old enough to collect, you may be able to start benefits for the month you apply. Note that in any case you actually receive each month's retirement benefit the following month.