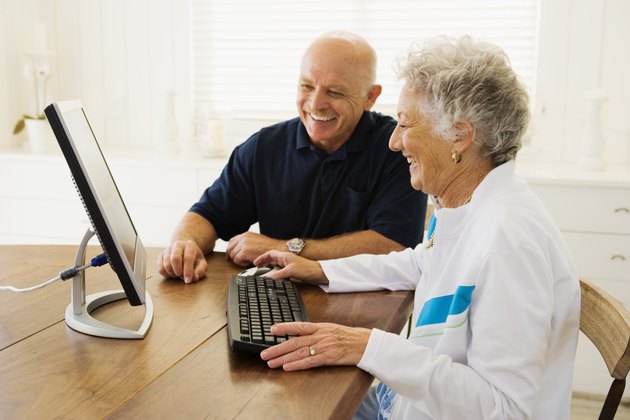 Social Security benefits are typically available starting at the age of 62, although you will receive a larger benefit check each month if you wait until full retirement age. Full retirement age is based on your birth year and ranges from 65 to 67. According to the Social Security Administration, retirement benefits will be reduced anywhere from 20 to 30 percent if you start receiving benefits at age 62. You can apply for Social Security benefits in person or by phone, or you can log onto the Social Security Administration's website.
Step 1
Apply for Social Security benefits if you are at least 61 years and 9 months old and want your benefits to start at the age of 62. Gather certified copies of all government-issued papers. Photocopies of your W-2s are acceptable. If you choose to apply by phone or in person, you can call the SSA's toll-free number, 800-772-1213, to arrange an appointment.
Step 2
Log onto the Social Security Administration's (SSA) website, SocialSecurity.gov, if you choose to apply online and click the "Apply for Benefits" button. You will be directed to a page with the SSA's privacy and security policies.
Step 3
Answer all the questions presented to you truthfully and honestly. These questions will include your name, date of birth, information about your military service, work history, family makeup and whether you qualify for certain types of retirement benefits through past employers.
Step 4
Provide your bank account information to set up direct deposit of your benefit check each month. The SSA says that direct deposit can facilitate faster access to your benefits.
Step 5
Provide copies of your birth certificate, Social Security card, military discharge paperwork and your W-2s to the Social Security Administration. Since photocopies of most documents are not acceptable, you may choose to go to the local Social Security office to submit these documents instead of sending them through the mail.
Tip
You can save your online application and return to it at a later date if necessary.
Warning
Not being truthful on your application can lead to federal prosecution.
Things You'll Need
Birth certificate

W-2s from the previous year

Social Security card or naturalization papers

Military discharge papers

Bank account information