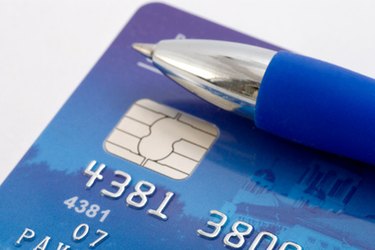 Visa cardholders can dispute a transaction for a number of reasons: perhaps you've noticed unauthorized charges on your bill, you didn't receive the merchandise or service, or you returned merchandise but never received the credit due. When you dispute a transaction, your credit card bank, also known as the issuing bank, can initiate a Visa chargeback on your behalf, but you must follow certain procedures.
Contact Merchant
If you are disputing a transaction that you authorized, contact the merchant first to resolve the matter. If the merchant agrees to a credit in writing or verbally, you must allow the merchant 30 calendar days to issue this credit. If there is no credit on day 31, if the merchant refuses to issue a credit, or if you did not authorize the transaction, contact your issuing bank.
Dispute the Transaction
As the cardholder, you have to contact your credit card company, not Visa, to dispute the transaction. You have a limited time frame to work in. In most cases, you have 120 calendar days from the transaction date to dispute a charge as per the Visa International Dispute Rules. You can call, fax, mail or email your credit card company concerning the nature of your dispute.
Unauthorized Transactions
Depending on the reason for your dispute, the issuing bank may request that you either fill out and sign dispute documents or provide proof credit is due. For an unauthorized or fraudulent transaction, your bank will request a signed affidavit from you stating the disputed transaction was not authorized by you. Usually, the issuing bank will mail or email you a form to sign containing the transaction information stating you did not authorize the transaction.
Authorized Transactions
For disputes concerning transactions you authorized, you need to provide proof a credit is due. If you received damaged or wrong merchandise, for example, you need to provide proof the merchandise was returned to the merchant. A shipping receipt or tracking record is ideal. If you canceled a service or merchandise order and the merchant agreed to issue a credit, then a credit slip, written credit acknowledgment or a copy of your cancellation letter is sufficient proof.