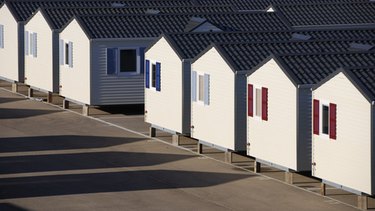 Understanding how double-wide mobile homes are purchased and financed will get you closer to owning a mobile home. Mobile homes, sometimes referred to as manufactured homes, come in two major sizes: single- and double-wide. Single-wide units are less than 20 feet in width, whereas double-wide homes are 20 feet wide or more. There are many ways to finance and purchase a double-wide mobile home; some ways are better than others.
Financing
Before you decide on a lender, shop around to secure the best rate and terms possible for your mobile home purchase. Traditional home mortgage players such as Fannie Mae and Freddie Mac offer programs through lenders; however, the biggest difference between obtaining a traditional mortgage and a manufactured home mortgage is rate.
Rates tend to be higher for manufactured home financing than traditional mortgage rates. The reason is because manufactured home residents typically have fewer assets for loan repayment and are on a rigid budget. Because mobile homes depreciate quickly, lenders have less collateral and must price loans accordingly.
If you choose to finance your home through the double-wide mobile home retailer, understand that most retailers sell only the homes within a manufactured housing subdivision. You will be responsible for additional financing for the land.
N'ann Harp, president of Smart Consumer Services, suggests that you visit your local financial institution for a loan first. She says that if you are unable to obtain a loan through your bank or credit union, your best bargaining chip is a good credit rating. She adds that checking with your local government for incentive programs can provide financial relief.
Purchasing
Many double-wide mobile homes are sold through retail sales centers located within the manufactured housing subdivision. One advantage to purchasing a home in an established community is that you can drive through the neighborhood and get a feeling for the type of subdivision, whether it's populated primarily with families or retirees, for instance.
Speak with current manufactured home residents before purchasing in a manufactured home subdivision. Ask residents what they like and don't like about living in the neighborhood.
Other ways to purchase a double-wide mobile home are through the manufacturer if you are interested in purchasing a new home or through a real estate agent to purchase an existing home. Like financing, the best way to purchase a double-wide mobile home is to shop around and compare and contrast different purchasing outlets. Compare how purchasing a manufactured home from a housing subdivision differs from purchasing directly from the manufacturer. Before committing to a mobile home purchase, check with your local Better Business Bureau or local consumer protection agency to ensure that you are dealing with a reputable company.