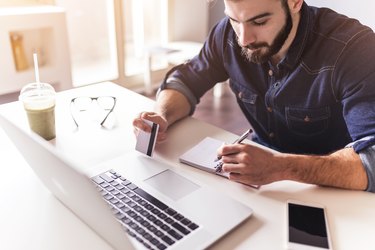 Tip
Check with your bank for their specific online banking registration requirements.
Look at the online options when establishing a new bank account and select the type of account that fits the level of online services you prefer.
Warning
Ask about the security features of your online account to ensure your online information safety.
Online banking is an efficient way to monitor your bank balances and transactions. Most banks offer online banking as a complimentary service for account holders. Some online accounts may come with added benefits such as bill pay functions, fund transfer options and even connections with other financial instruments you have with the bank such as a credit card or savings account. Depending on the type of account you have, these added services may be offered at no additional charge, or may require a small monthly fee. Before you can take advantage of any Internet based banking options, you must register for online banking.
Step 1
Contact your bank and request to sign up for online banking. If you are establishing a new account, you can request this service during the sign up process. For existing accounts, you can usually call the bank's customer service or go in person to start the registration process. Some banks may offer an online sign up process as well.
Step 2
Confirm your identity with the bank. When you request online banking services, you will be asked to confirm your account number and establish your identity. For in-person sign-up, you can present your bankcard or a photo ID like your driver's license. For phone-based registration, you may need to provide your social security number and answer questions to establish your identity. For Internet-based registration, you may need to supply your pin number or other bank specific identification codes.
Step 3
Establish a user name. For most online banking accounts, you will be able to create a username and password to easily access your online account. Select a username and password that is simple to remember, but has a high security level. Consider using a combination of uppercase and lowercase letters as well as numbers in your password. Your bank may have security related minimum requirements for passwords.
Step 4
Install software on your computer required to access your online banking account. Most banks have minimum browser requirements. If necessary, install the latest supported Internet browser and any other software specified by your bank.
Step 5
Wait for your account to be activated. Some banks may offer instant activation, while others may have a slight delay. As soon as your account is established, sign on to your new online banking account to ensure registration success. Some banks may have a secondary activation process for safety that will require you to enter an activation code supplied through the mail that must be entered to keep your online banking account live.