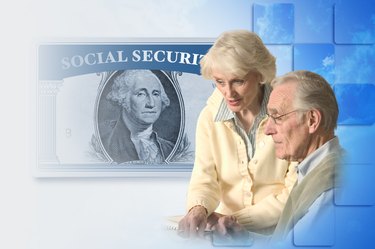 Putting a lock on one's Social Security number involves placing a security freeze on one's credit file with each of the three credit bureaus, Equifax, Experian, and TransUnion. One of the advantages of placing a security freeze on one's credit file is that it enables credit file holders to have control over who accesses their credit file. According to The Privacy Rights Clearinghouse (PRC), "this effectively prevents thieves from opening up new credit card and loan accounts." Credit bureaus, in compliance with state security freeze laws, may charge a fee for this service.
Step 1
Write a letter to each of the three credit bureaus requesting a security freeze on your credit file. For help in writing this letter, copy and paste the "Sample Letter to Request a Security Freeze" template in the resources section into a new Word document, and then customize the letter by providing your personal information.
Step 2
Write a check payable to each credit bureau covering the security freeze fee. Since fees may vary by state, see the resources section for the fee information pertaining to residents from your state.
Step 3
Mail your letters to credit bureaus via certified mail, making sure to include your payment for this service and any supporting document(s) establishing proof that you currently live at your present address.
Send your letters to Equifax, P.O. Box 740250, Atlanta, GA 30374- 0241; Experian, PO Box 9532, Allen TX, 75013; TransUnion, P.O. Box 6790, Fullerton, CA 92834-6790.