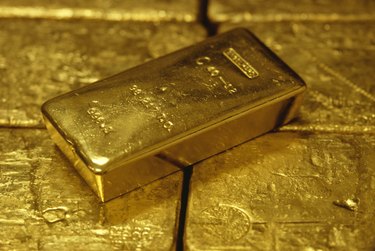 For thousands of years, gold has been coveted and hoarded. During times of political or economic uncertainty, people turn to gold as a safe means of protecting their wealth. Unlike other physical assets, the value of gold has never fallen to zero. When buying gold, it is critical to know exactly what purity of metal you are acquiring. By far the safest method is to buy gold whose precious metal content is guaranteed. For this example, let's assume you have decided to invest in gold Canadian Maple Leaf coins, or United States gold Buffalo or gold American Eagle coins. All three contain one troy ounce of pure gold.
Step 1
Using the telephone or the Internet, locate a dealer who sells Canadian gold Maple Leaf coins or American gold Buffalo or American Eagle coins. As a starting point, The United States Mint website provides information explaining how to locate any of their approved gold coin retailers. Many of these same dealers sell gold Maple Leaf coins as well. These dealers must apply to the Mint for inclusion in the gold dealer program. If they do not maintain the highest level of ethics and honesty, they will soon forfeit this privilege.
Step 2
Purchase as many of the coins as you can afford. Gold coins are not the only method of acquiring gold. You could purchase privately minted gold medallions, gold bars or gold jewelry. However their gold content is not guaranteed by a sovereign government. And, they have not been monetized as legal currency.
Step 3
Instruct the dealer to ship your coins via a reputable carrier. For a phone or Internet purchase, request a printed or electronic sales confirmation number and a receipt listing the purchase price for your items. For additional security, insist that the coins be insured and shipped to you in nondescript packaging. If you make your purchase locally, take your gold with you.
Step 4
Store your coins in a secure location such as a safety deposit box. If the size of your purchase is substantial, you may wish to have it shipped directly from the dealer to a private bullion depository. The precious metals dealer can assist you with these arrangements.
Tip
Because the weight, purity and content of gold Maple Leaf, American Buffalo and American Eagle gold coins is guaranteed by the Canadian or United States governments, they are accepted worldwide as genuine. If you decide to sell them, they will not require an independent assay to determine their purity. To maximize your gold buying dollars, you should consider buying "raw" coins which have not been professionally graded. Although fractional denominations are available, the 1-ounce coins carry the lowest sales premium.
As a testament to their popularity with investors and collectors, since 1986, the United States Mint has struck and distributed through their dealer network more than 13.2 million 1-ounce gold American Eagles.
Things You'll Need
Telephone or Internet access

Sufficient funds to consumate the purchase(s)