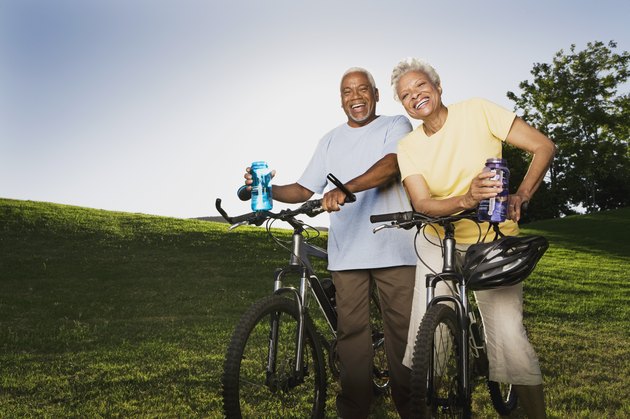 Long-term care insurance provides assistance for the expenses involved in long-term care beyond a preset period of time. Long-term care insurance covers costs that are typically not covered by standard health insurance policies or government-provided healthcare benefits, such as Medicare or Medicaid. Individuals who need this type of coverage are often unable to perform such basic tasks as dressing, bathing, eating or using the restroom. Several highly reputable insurance underwriters provide this specialized coverage.
John Hancock
The John Hancock Life & Health Insurance Company, known more simply as "John Hancock," provides long-term health insurance coverage for both private policyholders and for the Federal Long Term Care Insurance Program. John Hancock lends its substantial experience in the long-term care insurance market, sustaining some of the most effective financial and claims payment ratings. As of May 2014, John Hancock received an AA- (Very Strong) rating from Standard and Poor's and an A1 (Good) Rating from Moody's.
Massachusetts Mutual
Founded in 1851 as the Massachusetts Mutual Life Insurance Company, MassMutual offers various policies to meet the particular long-term care needs of its policyholders. Policyholders can choose from benefits packages with lower premiums, reduced deductibles and smaller co-payment amounts. MassMutual consistently receives high ratings for both customer service and for its financial stability. The company received an AA+ (Very Strong) from Standard and Poor's and an Aa2 (Excellent) rating from Moody's.
Genworth Financial
Genworth Financial has been one of the leaders in the long-term care insurance industry for several years. Genworth CEO Thomas J. McInerney told institutional investors in a December 2013 conference call that long-term care insurance "represents a significant opportunity for us going forward." Despite troubles in the insurance industry, Genworth maintains consistently high ratings from financial observers, with an A- (Good) rating from Standard and Poor's and an A3 (Good) rating from Moody's.
Mutual of Omaha
Mutual of Omaha has provided insurance products for over 100 years and has been in the long-term health care insurance industry since 1987. Mutual of Omaha offers Mutual Care MyWay, which allows policyholders to determine their benefit options. The company also offers its Assured Solutions policies through its United of Omaha subsidiary. Standard & Poor's gave Mutual of Omaha an A1 (Good) rating, while Moody's gave it an A+ (Strong) rating.