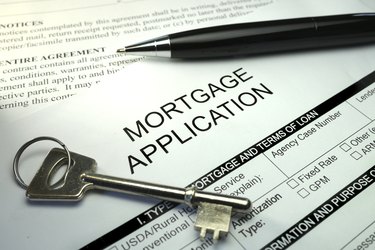 You may decide to change mortgage companies before or after you obtain a home loan. Switching companies mid-transaction, say, during a purchase or refinance, may take some explaining; however, it may yield better results if you didn't receive the service or savings you initially expected. Changing mortgage companies after you've had your mortgage for a while may mean a better interest rate or other favorable terms, but requires sufficient equity and diligent calculation. In general, to avoid changing mortgage companies, shop mortgage companies and compare their service and costs before you enter into a refinance or purchase-loan transaction.
Reasons to Change During a Transaction
During the span of a refinance or purchase transaction is a less-than-deal time to shop for another lender. You may feel compelled to switch, however, if your current lender increases your interest rate or you're unsatisfied with a lender's service. You might also receive a more competitive offer through another mortgage company and decide to make a move. Timing and savings have a major impact in the decision to change companies during a transaction. For example, you may not want to jeopardize the purchase of a new home a few days before your scheduled closing date because another lender offers a better monthly payment.
Do Your Mortgage Homework
Speak with you current lender about the loan terms or service that have motivated you to change companies. A lender that values your business typically will try to compete with another mortgage company's cost or interest rate, cutting fees or offering another incentive to keep you happy. If a lender simply can't keep your mortgage within the company, the lender may require you to pay certain fees, such as the appraisal and credit report fee and cancel the transaction. Ensure that the new company you plan to use has thoroughly reviewed your financial information and mortgage application and has shown you a monthly payment and list of closing fees via a Good Faith Estimate before you cancel your current transaction.
Changing Your Current Lender
Your current mortgage may no longer suit your needs and you, therefore, want to change companies via a refinance. A refinance pays off your existing mortgage balance with proceeds from a new loan. You can often choose to stick with your current mortgage lender when refinancing or opt for an entirely new one. Whether you can change companies also depends on the type of refinance. There are three main types: a streamline refinance which offers expedited loan qualifying and minimal paperwork; a rate and term refinance, also known as a limited cash-out refinance; and a cash out refinance.
Refinancing With a New Mortgage Company
Proceed with a refinance much the same way you would with a purchase: Shop at least two or three mortgage companies to get interest rates, fees and a sense of their service. You may prequalify with the companies, which entails less upfront paperwork and financial probing; or you may apply for pre-approval, which involves a full-on credit, income, debt, asset and employment review. In general, a pre-approval results in more accurate figures but takes longer to process and more effort on your part than prequalification.