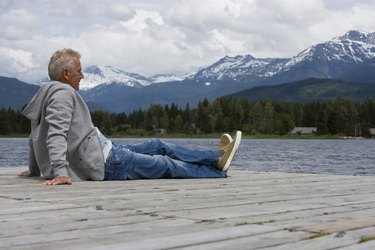 If you've been paying into the Social Security system and have enough credits in your account, you have earned a monthly retirement benefit that will continue until your death. Social Security sets a full retirement age, which runs from 65 to 67 depending on the year of your birth. You also have the option to begin taking early retirement benefits at the age of 62. No matter when you apply for Social Security retirement, the application process is the same.
Reduction in Early Retirement Benefits
Social Security retirement benefits are available starting at age 62. Taking early retirement at 62, or at any point before full retirement age, means a reduction in your monthly benefit, and the payment remains level, with annual cost-of-living adjustments, until your death. For each month prior to full retirement age, the reduction is 5/9 of 1 percent for up to 36 months, and 5/12 of 1 percent for each additional month over 36.
Getting Prepared for a Social Security Application
If you have a computer and an Internet connection, Social Security makes its retirement application available online. Before starting the process, write down needed information, including names of your current and prior spouses, the names and ages of your children, and the Social Security numbers of all family members. You also need basic info on your military service (if any), employment and/or self-employment details for the past three years, and bank information if you want direct deposit of your benefits. If you are not a US citizen, you'll also need your permanent resident card number.
Online Applications
Go to Social Security's online application form, which can be found from the agency's home page at SSA.gov. The application takes you through a series of screens, which will ask basic questions such as your full name, date of birth, gender, and whether or not you are blind. You must be at least 61 years, 9 months to use the online application or to have a retirement application processed by any means. While you are completing the application, you can access employer information by opening a new window, completing a My Social Security account, and navigating to your Social Security Online Statement.
Phone and Walk-In Applications
Whether you're taking benefits at age 62 or 70, or any age in between, you can apply by calling Social Security at 800-772-1213 or by visiting a Social Security office as well as doing so online. You also can check your application status by going to the online Application Status Information page. You'll need your Social Security number and a confirmation number supplied by Social Security's computer system when you completed the application.
Benefit Payments
Benefits should begin in the month following your application's approval. Social Security uses either Direct Deposit transfers into your bank account, or Direct Express, a debit card that is charged with your monthly benefit. The date of the payment depends on your date of birth: for people born on the 1st through the 10th of the month, Social Security pays on the second Wednesday. If your birthday was on the 11 through the 20th, payment is on the third Wednesday, and for birthdays from the 12th through the 31st, payment is on the fourth Wednesday. If you expect to owe federal taxes on your benefits, request regular withholding with a Form W-4V.