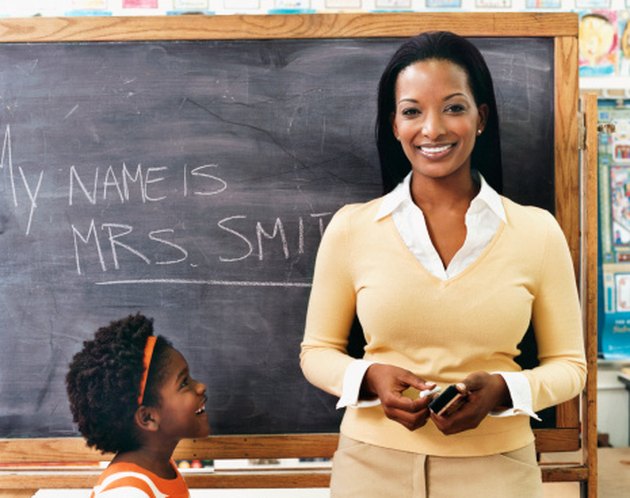 There's no way around it. If you want to be a public school teacher, according to the Bureau of Labor Statistics, you must be licensed in your state. However, there isn't just one route to licensure. You may not need to commit another four years of your life to college to achieve your dream of teaching. In fact, licensure in your state may take only a few months.
Step 1
Apply for certification with the American Board for Certification of Teacher Excellence (ABCTE) at the ABCTE website. The ABCTE trains and certifies career changers who have a bachelor's degree of any kind, enabling them to teach without having to return to college to obtain a teaching degree. The online program costs $1,995 at the time of publication, but it provides the option to pay in installments or receive financial aid. Most people obtain certification through ABCTE within 6 to 10 months.
Step 2
Find an alternative teaching program suitable for you by using The National Center for Alternative Certification's search tool . This tool allows you to search for accelerated certification programs by state, grade level and subject. While the requirements of each program vary, some allow you to obtain certification in three years or less by working with a mentor at a school.
Step 3
Obtain grants, if the cost of education is holding you back from earning your teaching credential. The federal Teacher Education Assistance for College and Higher Education (TEACH) grant provides up to $4,000 a year to students who commit to teach in a public or private school in a low-income community. Apply for this grant and other federal financial aid at the government's Free Application for Federal Student Aid (FAFSA) website. FAFSA will screen you for other need-based grants as well.
Step 4
Enroll in an accelerated degree program at a local college. Though it may still take two or three years to obtain your degree and licensure, you can avoid being in school for the full four years by adding summer classes and overloading your hours per semester. Talk to an academic adviser at your school to determine your options.
Step 5
Contact your state's Department of Education regarding emergency teaching licenses, if you live in an area where there are many teaching openings. According to the Bureau of Labor Statistics, states are allowed to immediately issue licenses to individuals who don't meet standard requirements for licensure if the area lacks qualified instructors.