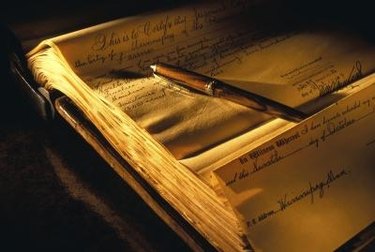 You may want to own a home, but financial hardship or poor credit may be holding you back. Rather than obtaining traditional financing through a bank or credit union, you can use creative ways to finance a home. One of these is to buy a house on a land contract. This is an agreement between the buyer and seller wherein the seller finances the property sale and retains the title until agreed-upon payments are made.
Step 1
You need a seller who is willing to do a land contract, and that will narrow your options. You can approach For Sale by Owner (FSBO) properties or work with a real estate agent that understands you're looking for land contract financing. This will help to narrow your focus on home sellers that may be willing to work with you.
Sellers willing to sell a home on a land contract may not have a blinking neon sign on the front lawn, but once you locate a home you're interested in, you or your real estate agent can negotiate with the seller to see if this type of financing is an option for them.
Step 2
Once you find a home you're interested in buying, you or your agent will make an offer to buy to the seller. In a land contract, the offer should include terms on down payment, the interest rate and the duration.
Step 3
Negotiate with the seller until you come to a mutually beneficial agreement. Some sellers will accept your terms from the initial offer, but others will make counteroffers. Consider a counteroffer very carefully before saying no and try to look at it from the seller's point of view. Be fair and be realistic, but try to come to an agreement you both can live with.
Step 4
Make sure that everything is in writing. If you're working with a real estate agent, they will draw up the sales agreement and handle the down payment accounting. You'll also want to hire a real estate attorney to conduct the closing and draw up all of the legal documents and promissory note for the land contract. This helps protect both you and the seller by spelling out the terms and conditions of the agreement and legally recording the transaction.
Step 5
Make your payments on time. This will help to ensure the transaction remains smooth until the land contract comes due. At this time, you can refinance with a conventional lender or pay off the balance owed to the seller.
Tip
Put everything in writing
Warning
Land contracts usually have a higher interest rate and shorter terms than a conventional mortgage. Some states do not allow land contracts, so check with a real estate attorney to see if your state allows these types of purchases.